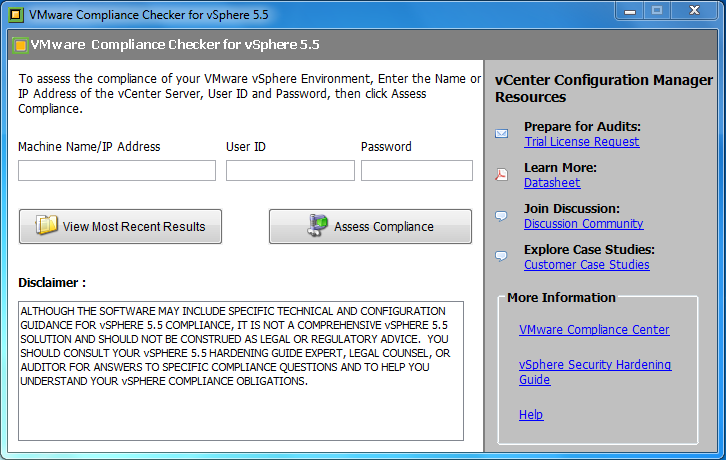 People are scared of Audits for many reasons. (Audit results may give new Manager or Project – just kidding 😉 )
Let us focus on Compliance Tool from VMware which is VMware Compliance Checker Utility.
Compliance Checker for vSphere
Check the compliance of your IT infrastructure against specific standards and best practices that are applicable for the environment. The Compliance Checker is a free, downloadable, fully-functional product for checking compliance of your environment to help you ensure that it remains secure and compliant.This product can check your existing installation of VMware vSphere against the VMware vSphere Hardening Guidelines. Can check vSphere environment since 4.0 up to 5.5, where up to 5 ESXi hosts is checked with single pass. The results shows from within the tool but can get printed, so you basically can install a PDF printer and generate a PDF.
Unlike other free tools in the market, VMware's free Compliance Checker for vSphere is a fully-functional product that provides detailed compliance checks against the VMware vSphere Hardening Guidelines.
Benefits
Produce audit quality reports on vSphere compliance – The summary report produced by the Compliance Checker for vSphere can be used during an audit to demonstrate IT compliance against vSphere.
Detect problems before they affect your security posture – Due to the dynamic nature of the VMware environment, it is important to detect problems before your environment becomes insecure. With this tool you can run assessments often and easily.
Get detailed guidance on remediating compliance violations – Detailed remediation advice for each supported requirement is provided by a team of experts at the Center for Policy and Compliance and is available directly from the tool.
Access the latest podcasts, webinars and white papers on PCI compliance – A wealth of up-to-date resources includes interviews with thought leaders, white papers, archived webinars and analyst reports that can be accessed from the tool.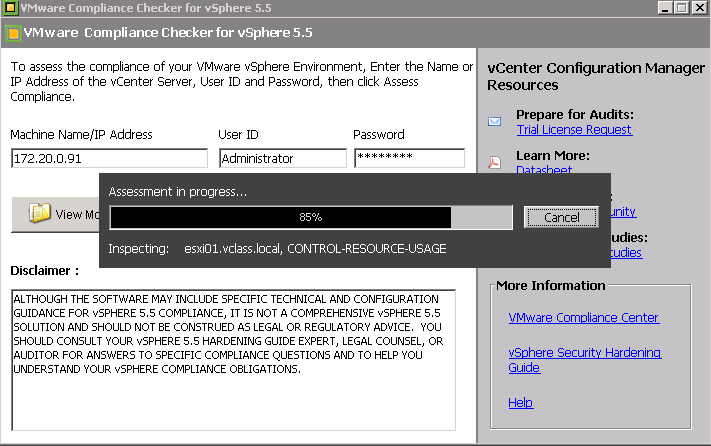 Key Features of VMware Compliance Checker for vSphere:
Check compliance for multiple VMware ESX and ESXi servers concurrently — Run compliance check on up to five ESX or ESXi servers at a time and produce reports.
Supports VMware vSphere hardening guidelines — Perform checks on VMware ESX and ESXi servers to conform with the latest VMware vSphere hardening guidelines.
Roll up compliance assessment by benchmarks and by machines — After a compliance run, you can view the assessments by machines and by benchmark type.
Save and print assessment results — You can save, print and email the compliance assessment reports to your team for review and they can be saved for archival needs.
Sample Report: