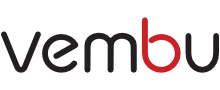 Vembu BDR Suite v3.7 – Universal Backup and Recovery solution for Small and Medium Businesses
Vembu BDR Suite is a comprehensive universal backup solution catering to the backup, recovery and disaster recovery needs of diverse and heterogeneous IT environments. The portfolio of products under the Vembu BDR Suite can be used by sophisticated, virtualized data centers to the simple IT environment in small and medium businesses including service providers providing an offsite backup service to small businesses. Vembu BDR Suite also offers flexible deployment options like offsite, cloud, on-premise and hybrid cloud. The centralized monitoring and management portal also makes it very easy to monitor and manage large deployments with minimal effort.

Vembu BDR Suite v3.7 is the latest version from Vembu which aims to provide enterprise-level backup and disaster recovery solutions to small and medium businesses at affordable cost. The Vembu BDR Suite v3.7 is designed for diverse environments like VMware vSphere, Microsoft Hyper-V, Windows, Linux, and Mac.
Below products are part of Vembu BDR Suite v3.7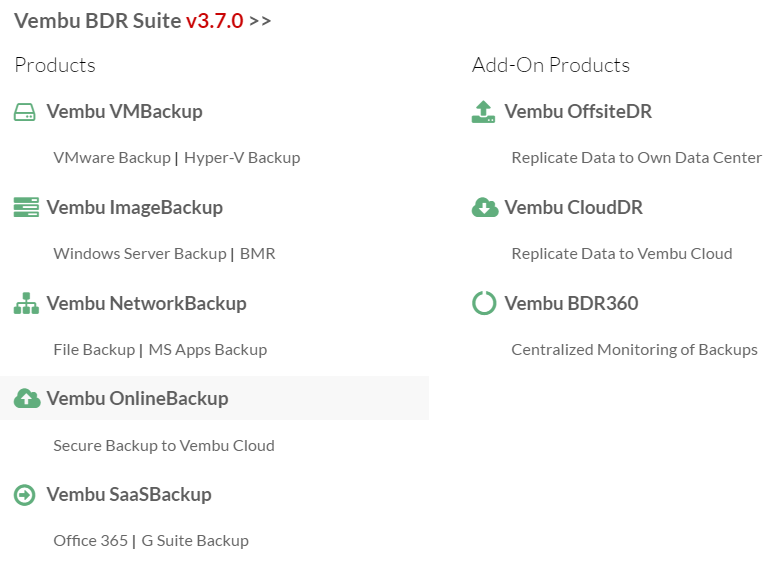 Hailed by customers and analysts alike, as the most viable Backup & Disaster Recovery solution for virtualized environments, Vembu VMBackup provides effective, agentless backups for VMware vSphere and Microsoft Hyper-V environments with RTO & RPO lesser than 15 minutes. High-level Business Availability as its sole objective, VMBackup provides multiple recovery options like Quick VM recovery, Entire VM recovery, Instant File-level recovery and so on along with its seamless VMware vSphere Backup & Microsoft Hyper-V Backup mechanism. VembuHive, a file system of file systems offers efficient storage. It has been designed with simpler UI making it an easy-to-use product at an affordable cost.Vembu VMBackup also provides an option of sending the backup data to an off-site data center or Vembu Cloud for data redundancy and disaster recovery.
Know more on Vembu VMBackup v3.7
Vembu ImageBackup v3.7
A complete Backup & Disaster Recovery solution for Windows IT environment. Vembu ImageBackup provides backup for the entire disk image of Windows Servers, Desktops, and Laptops including operating system, applications and files. Apart from Windows Server Backup, Bare-metal recovery helps in recovering the backed up Windows machines into same or different hardware. Additionally, it can initiate instant recovery of entire Windows IT Environment which includes Windows Servers, Desktops and Laptops with built-in P2V support. Also, Vembu offers full image backup of Windows Desktops and Laptops at free of cost!
Know more on Vembu ImageBackup v3.7
Vembu NetworkBackup v3.7
Vembu NetworkBackup is designed for small & medium businesses to protect critical business data across file servers, application servers, workstations and other endpoints in Windows & Linux environments. Vembu offers NetworkBackup at free of cost for end points which includes Windows Desktops, Laptops, and Mac.
Know more on Vembu NetworkBackup v3.7
Vembu OnlineBackup v3.7
Vembu OnlineBackup v3.7 provides File Server, Exchange, SQL, SharePoint & Outlook Backups directly to Vembu's secure cloud using enterprise-grade AES 256-bit encryption with granular restores.
Know more on Vembu OnlineBackup v3.7
Vembu SaaSBackup v3.7
Vembu SaaSBackup is designed for backing up the Mails, Drives, Calendar and Contacts of your Office 365 and Google Apps. Since SaaS applications are deployed in the cloud, IT admins feel apprehensive about the security of the data. Here is the solution which comes to the rescue of those who have no idea about securing their valuable data in SaaS applications.
Know more on Vembu SaaSBackup v3.7
Free products from Vembu: