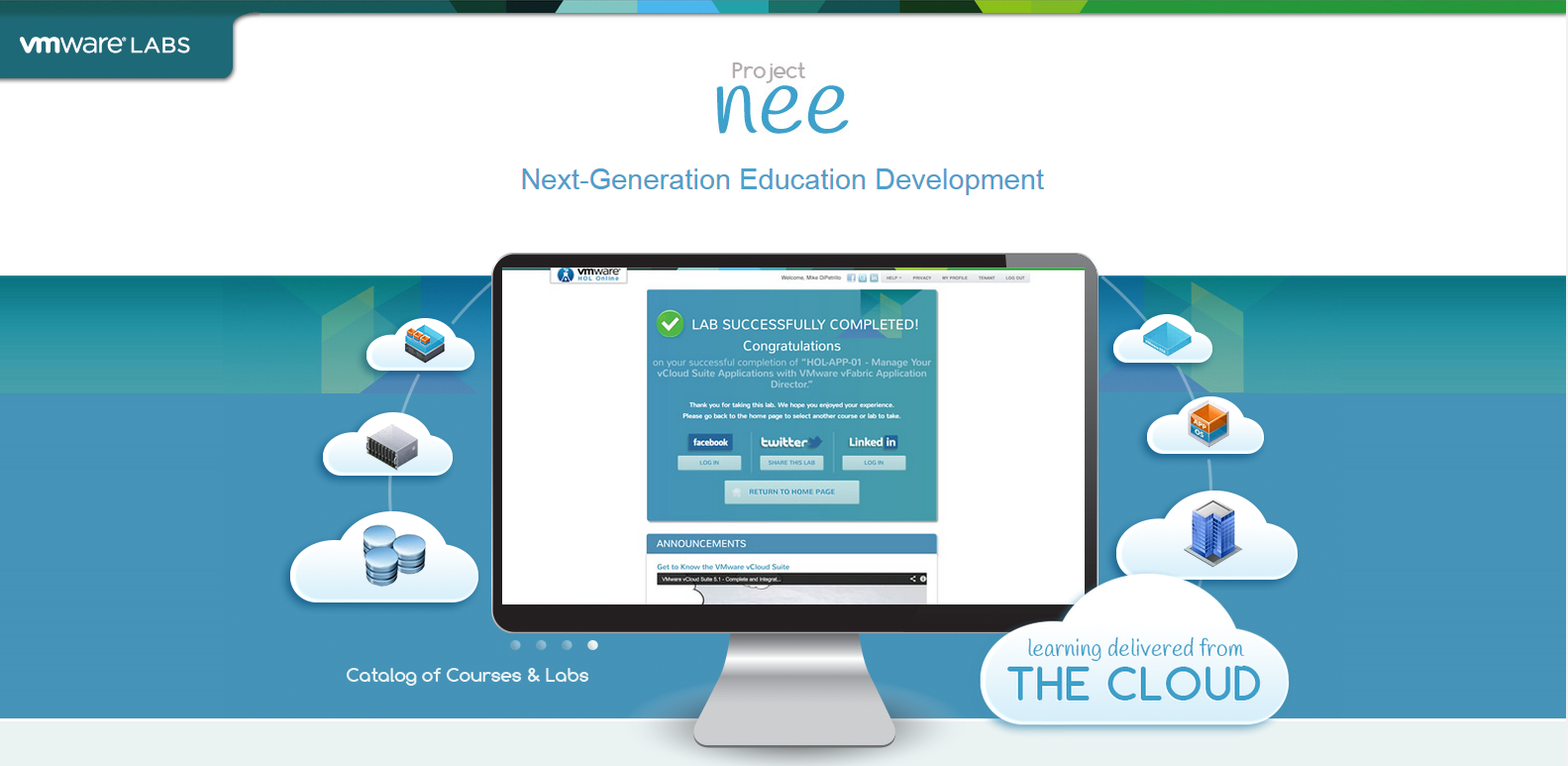 Project NEE, which stands for Next-generation Education Environment, is VMware's multi-tenant, cloud service that provides an online learning environment. Project NEE users can access virtual machines (VMs) and accompanying lesson materials with a Web browser that fully supports HTML 5. Most of the Project NEE platform is written in the Groovy programming language using the Grails Web application framework. It uses RabbitMQ for messaging between components and can work with PostgreSQL or MongoDB databases, depending on the needs of the application components.
Project NEE uses VMware's vCloud Suite to provide the service.
VMware uses the Project NEE technology to run its Hands-on Labs at VMworld events and for online training of VMware products to assist its employees, partners and customers. The benefits of Project NEE include flexibility — the ability to integrate social media, live chat, video, audio and notes in a training session — and scalability.
"Click here for all available LABs"
What are the features in Project NEE that aren't available in other online learning environments?
Project NEE team: For the end user, delivering a superb learning experience is what NEE is all about. NEE does this by bringing together the 'doing' — the lab VMs — and the instructional materials — notes, video, audio — in an easy to use, integrated learning environment. NEE supports multiple displays and can even split the learning environment across devices. Students can use their iPad or Android device to see the manual for a lab and switch the consoles while using their primary desktop machine in full screen mode for the display of the lab VM. The two device displays automatically stay in sync.
NEE delivers this learning environment independent of client operating systems (Mac, Windows, Linux) to almost any device. All NEE requires of the end-user system is that it has a modern Web browser. For students, this means they can get straight to learning. For teachers, it means no time wasted fixing IT issues.
NEE supports complex lab environments that are hard, if not impossible, to achieve on other platforms. NEE lab virtual machines can run any of the hundreds of operating system versions supported by the vSphere platform. Since NEE labs provide a true 'VM console,' students get complete control of their private lab — even allowing provisioning of new operating systems or adjusting VM BIOS configuration parameters. Using a template-based approach for storing labs in the NEE content catalog makes lab content management and deployment easy.
NEE supported more than 450 concurrent users at VMworld, with each and every one of those users running a complex lab environment. NEE is scaling far beyond that.
Project NEE is fully multi-tenant and supports custom branding and skinning per tenant. Project NEE also provides support for private, public or even hybrid cloud solutions.
Source:    https://www.projectnee.com/