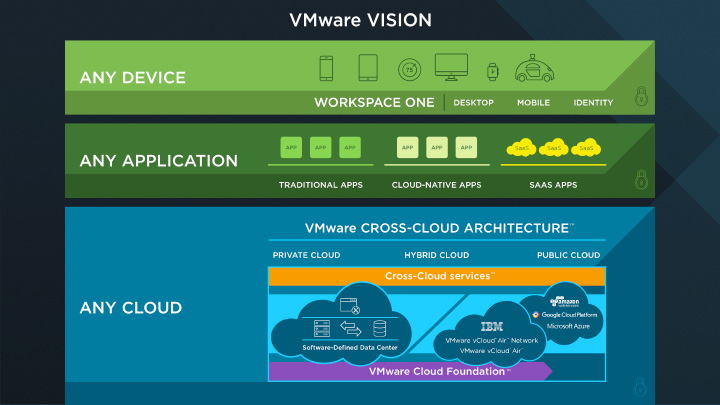 "VMware Cloud Foundation" makes it easy to manage and run SDDC Clouds; new "Cross-Cloud Services" will enable customers to manage, govern, and secure applications running across public Clouds including AWS, Azure and IBM Cloud services. For IT organizations worldwide, working across clouds has become one of their greatest challenges. Managing and securing applications across multiple clouds leads to problems with identity and access management, data security, and workload visibility. A new, more comprehensive approach to working across clouds is needed. That new approach is here, and it is available from VMware under "VMware Cross-Cloud Architecture"
Cross-Cloud Services are new Software as a Service (SaaS) offerings under development to enable visibility into cloud usage and costs, enhance consistent networking and security policies, and automate the deployment, management, and migration of applications and data across vSphere and non-vSphere private and public clouds. With a common operating environment for both public clouds and on-premises workloads, central IT can protect data and applications and control costs while enabling developers and the business to innovate freely in the clouds they choose.
The Cross-Cloud Services VMware preview include:
Discovery and Analytics: enabling discovery, onboarding, and governance of public cloud applications
Compliance and Security: using micro-segmentation and monitoring to provide security and compliance for applications across clouds
Deployment and Migration: providing developers the ability to work cross-cloud, and IT the ability to manage cross-cloud applications with security and compliance.
The Blueprint for a New Era of Cloud Freedom and Control
The Cross-Cloud Architecture is delivered through VMware Cloud Foundation, and through a new set of Cross-Cloud Services that VMware is developing. VMware Cloud Foundation greatly simplifies private and hybrid cloud development. It is a unified software-defined data center (SDDC) platform that integrates VMware compute, storage, and network virtualization and automates the installation, update, and lifecycle management of private cloud software. Cloud Foundation is also available "as a service," meaning customers can get the full power of the SDDC in a hybrid cloud environment.
Cross-Cloud Services, currently under development, extend workload visibility, security, and governance to public cloud applications. These new Cross-Cloud Services were designed to offer customers the ability to manage, govern, and secure applications running in large public clouds, including Amazon AWS and Microsoft Azure. By enabling a common operating environment for both public clouds and on-premises private clouds, VMware's Cross-Cloud Architecture offers organizations the ability to protect data and control costs, while ensuring that both developers and the business can innovate freely in the clouds they choose.
The VMware Cross-Cloud Architecture: Offering a new era of cloud freedom and control by enabling customers to run, manage, connect, and secure their applications across clouds and devices in a common operating environment.
Source:  VMworld 2016 Announcements