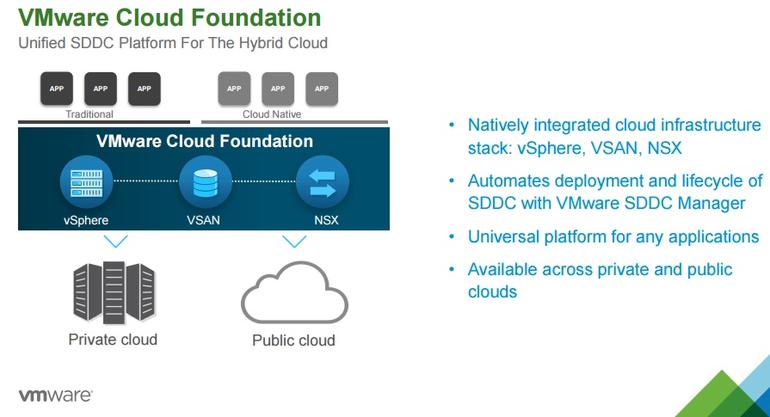 VMware Cloud Foundation is the unified SDDC platform that brings together VMware's vSphere, Virtual SAN and NSX into a natively integrated stack to deliver enterprise-ready cloud infrastructure for the private and public cloud. VMware Cloud Foundation is VMware's new unified Software-Defined Data Center (SDDC) platform for private and public clouds. Cloud Foundation brings together VMware's compute, storage, and network virtualization into a natively integrated stack, delivering enterprise ready cloud infrastructure with unique automation and management capabilities for simplified operations that is consistent across private and public clouds.
Use Cases
Virtual Infrastructure: Leverage the high performance, availability and scalability of Cloud Foundation to run any mission critical application including databases, web apps and virtual desktop infrastructure (VDI).
VDI: Easily run and provision virtual or remote desktops and applications including VMware Horizon.
Private Cloud: Build a complete private cloud with any cloud management platform including VMware vRealize Suite.
From an architecture standpoint, Cloud Foundation delivers the next-generation hyper-converged software platform by combining compute, storage, and network virtualization into a natively integrated stack from a single vendor. This goes far beyond what any other hyper-converged vendor offers, with major advantages for our customers. Not only do you benefit from the most mature and robust virtualization stack in the industry, but you also get significant cost savings (30-40% vs. other hyper-converged solutions in all flash deployments) with the added benefits of NSX.
Another unique aspect of VMware Cloud Foundation is deployed on premises and, for the first time, also run as a service in the cloud. For private clouds, customers can combine Cloud Foundation with a range of qualified VSAN Ready Nodes from Dell, QCT and HP and switches from Cisco and Arista, or procure the turnkey integrated systems VCE VxRack 1000 SDDC. As always we strive to provide a broad choice of options. For public cloud, IBM is the first VMware vCloud Air Network partner delivering a service based on VMware Cloud Foundation with its newly launched VMware Cloud Foundation on IBM Cloud service. VMware extremely excited about the work that was done together with IBM which will allow their customers to build a truly hybrid cloud with stretched networking, workload mobility between clouds, and a common management.
VMworld 2016 General Session:
Source :   VMworld 2016