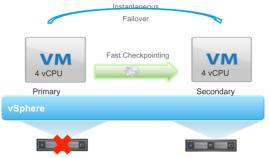 Have you verified Fault Tolerance feature at your Home Lab? Why don't you try it today?. What is the procedure to do that? there are lot of VMware pdf's to study for this? You are busy with work given by boss for VMware migration & Root cause analysis for last Major Incident. Do not worry – We are here to help you to solve this problem and captured below step by step procedure to enable FT for the VM with name "Linux-a-02". VMware vSphere Fault Tolerance (FT) provides continuous availability for applications (4 virtual CPUs) in the event of server failures by creating a live shadow instance of a virtual machine that is always up-to-date with the primary virtual machine. In the event of a hardware outage, vSphere FT automatically triggers failover—ensuring zero downtime and preventing data loss.

The below KB article talks about Processors and guest operating systems that support VMware Fault Tolerance
http://kb.vmware.com/kb/1008027
For VMware Fault Tolerance FAQ click below link.
http://kb.vmware.com/kb/1013428
Moment of truth :
Virtual machine files must be stored on shared storage. Acceptable shared storage solutions include Fibre Channel, (hardware and software) iSCSI, NFS, and NAS. FT does not create a new set of files when the primary VM goes down. It makes the secondary VM as primary and uses the files of old primary VM which are available on shared data store as new secondary.
Related posts