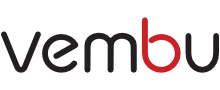 Recently, Vembu announced the release of version 3.7 of their BDR product. Who is Vembu Backup & DR? Vembu is a software company and they have 60,000 clients through 4000 service provider network. For those not familiar with Vembu BDR Suite, it's an all-in-one universal solution for backing up your VMware and Hyper-V & physical servers. Vembu Backup & Disaster Recovery 3.7  product will be the object of today's sponsored review.
The Vembu BDR Suite consists of five core products and four add-on products. Vembu BDR Suite Free Edition offers Backup and Recovery for both virtual and physical environments forever with no costs involved. With agentless backups for virtual environments, multiple recovery options, in-house file system for efficient storage management and secured data transmission, Vembu BDR Suite presents a free edition software which is best suited for all types of businesses who wish to experience the simple and comprehensive backup and recovery solution. As a VMware Architect/vExpert, I work with a lot of different backup applications while designing VMware backup strategy/architecture. Normally when I write a review I like to jump right in and get my hands dirty by installing it in the home lab with their trail license, then write a review about their Backup & DR application.

Vembu offer Service Provider version to deliver BaaS and DRaaS using their product suite. You can register for Vembu Service Provider Program here.
Vembu Service Provider Program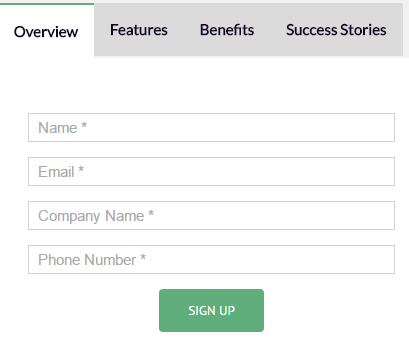 Let's review about individual products in the Suite along with description followed by Add-On products.
Vembu VMBackup:     
Vembu VMBackup is a backup and disaster recovery solution for the virtualized data centres. It supports both the VMware vSphere and Microsoft Hyper-V environments.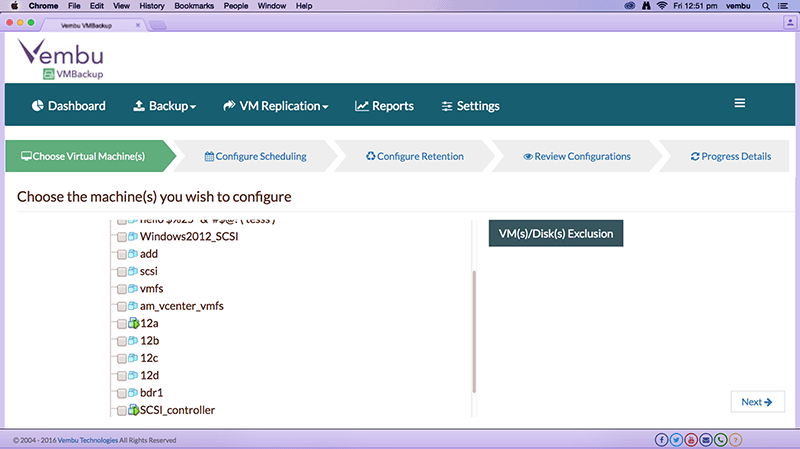 Vembu ImageBackup
Vembu ImageBackup is a disk image based backup and bare-metal recovery software for the Windows Physical Servers, Desktops and Laptops.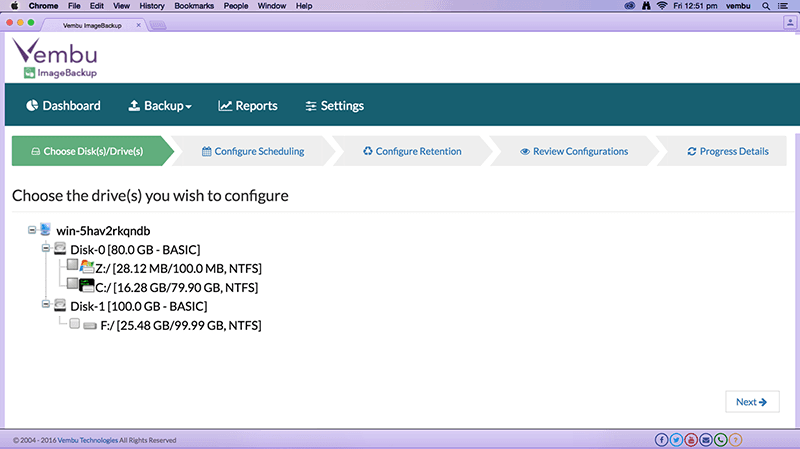 Vembu NetworkBackup
Vembu NetworkBackup is a backup software for the SMBs who would like a Hybrid backup solution (On-Premise with optional cloud storage) for their desktops/laptops, file servers, applications like Microsoft Exchange, SQL Server, Sharepoint, Active Directory and Outlook etc.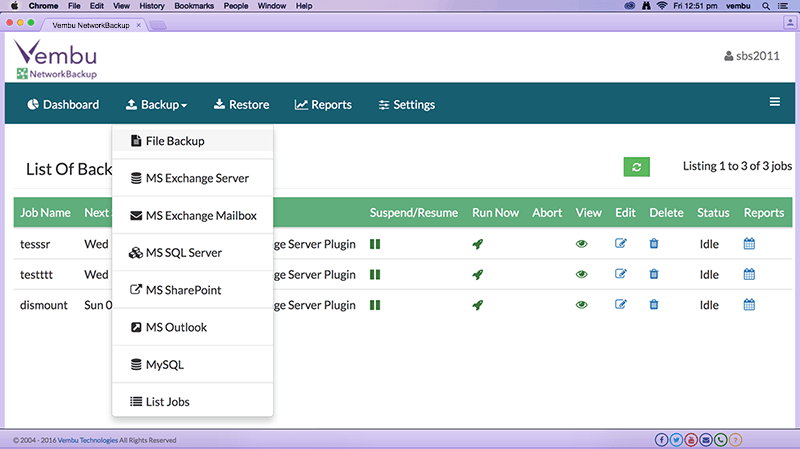 Vembu OnlineBackup
Vembu OnlineBackup is a Cloud Backup Solution for the SMBs who would like to backup their Files and Applications directly to Vembu Cloud.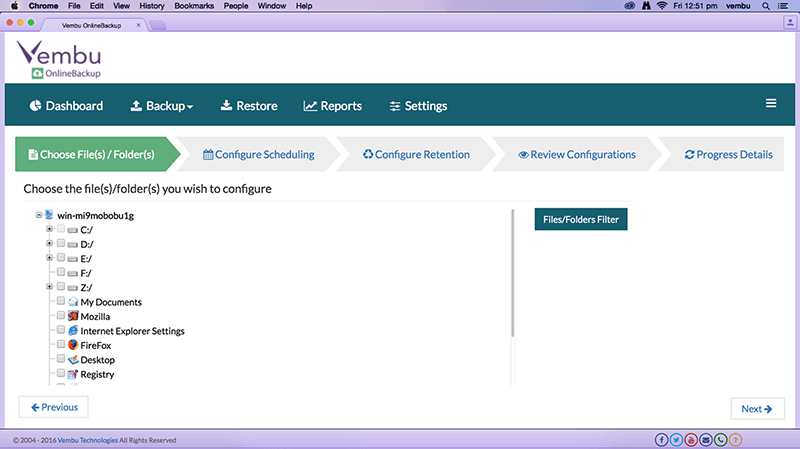 Vembu SaaSBackup
Vembu SaaSBackup is a backup and recovery software for SaaS Applications like Microsoft Office365 and Google Apps (now G Suite)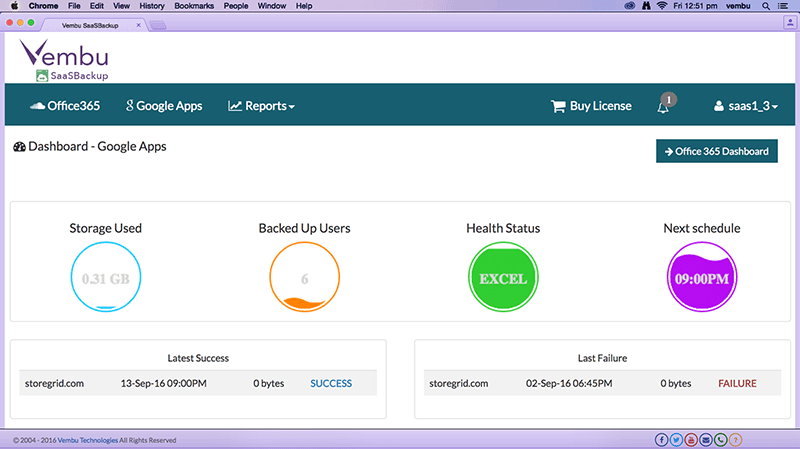 Add-On Products
Vembu OffsiteDR:  This one is an add-on service to Vembu BDR Backup Server. OffsiteDR enables you to keep additional copy of backup data on-site or off-site.
Keep additional backup copy for DR
Setup DR server On-premise or Off-Site
WAN optimized data transfer
Vembu CloudDR: This one provides ability to set up hybrid cloud environment where you can replicate additional backup copy to Vembu Cloud. So you can keep one copy of your backup data in the Vembu BDR backup server in your data center and another copy in the Vembu Cloud.
Upload additional backup copy to Vembu Cloud
Data will be uploaded to nearest Vembu Cloud Servers
Backup data will be encrypted on-the-fly and at rest
Vembu BDR360:   This one helps you with 24/7 availability by providing the flexibility to monitor and manage all your Vembu BDR backup environments from a centralized portal.
Group Management
Calendar based Backup Reports
Backup verification reports with screenshots
Vembu Universal Explorer: This one is an agent-less software which helps you to restore individual items from Microsoft Exchange, SQL Server, SharePoint and Active Directory instantly. This tool can be used for Instant Granular Recovery from Vembu BDR managed backups.
Mail or User level recovery from Exchange database
Table or Database level recovery from SQL Server
Documents or Site level recovery from SharePoint
Active Directory Object level recovery

Conclusion:
The product itself installed easily and can do many different features within a single console. It's a powerful backup suite of software. The backup market has a lot of different options available to you but rarely do they have an all in one console like this. My lab runs on desktop grade hardware and performance was great. The backups and restores all completed quickly with no issues. Their product pricing is very competitive for this industry. If you would like to try out the product, register for a free trial now.