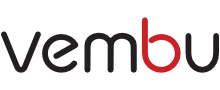 Backup software in Virtualization & Cloud space became critical and there are no more dedicated teams handling these backup/recovery operations. VMware Administrators became key members to handle storage & backup tasks with the modern approach of SDDC. Vembu started their journey in this space and now became one of the top sellers from a couple of years.
Vembu BDR Suite is a portfolio of software products that cater to the backup and disaster recovery needs of organizations. It helps in protecting their data hosted in both physical or virtual environment. The products under the Suite address the data protection needs of organizations of any size – from a simple IT setup of the small and medium businesses to the highly sophisticated data centers. It is also optimized for Service Providers looking to provide BaaS and DRaaS to their customers. The new Vembu BDR Suite v4.0.1 release includes significant enhancements and bug fixes that are geared towards performance improvement. Also, this release addresses the issues reported by customers on the previous build v4.0 and includes the following enhancements: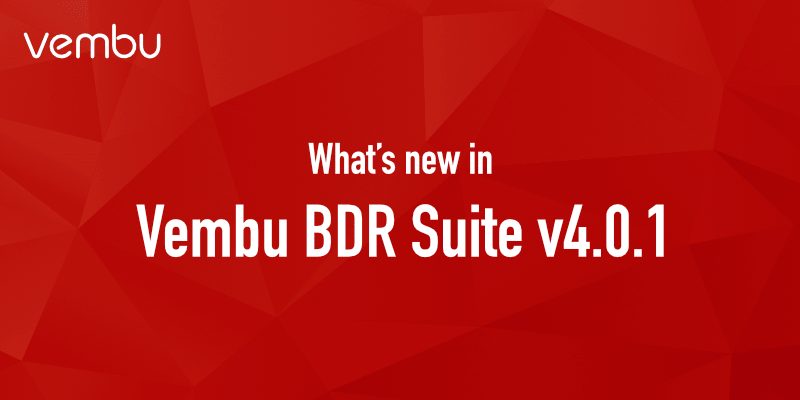 This v4.0.1 update serves to address the reported issues and other support issues our users faced from the previous build. Along with that, we also have enhancements that are targeted to improve the overall user experience and improve product performance.
Apache & PHP are upgraded to the latest version to improve the overall security of the application
Significant performance improvements in Quick VM Recovery on VMware environment
In the Manage Hyper-V Servers page, you can use the newly added Rescan button to install Vembu Integration Service on the newly added nodes in the Hyper-V Cluster (or the existing nodes in which VIS is not available)
Backup jobs configured from Vembu BDR Server will now run in parallel (default count 5, configurable)
While performing Live Recovery to Hyper-V host, you can now restore to the already added host or choose to easily add a new Hyper-V host
You can now see the progress information of the proxy installation
This new update is available to upgrade existing v4.0 builds and for fresh installations. Vembu BDR Suite is designed to protect multiple environments from virtual (VMware and Hyper-V) to physical (Windows, Linux & Mac), while addressing diverse and advanced use cases – all within your budget.
Major features in Vembu BDR Suite
Agentless VMware Backup & Replication: 

Vembu has designed VMware backup to protect vSphere and vCenter environments using VMware vStorage APIs (VADP). You can backup and replicate unlimited VMs from VMware vSphere ESXi hosts without installing an agent inside the VM. Direct Hot-Add and SAN transport mode provide faster data transfer speed with less resource utilization. VMBackup will auto analyze the VMware environment and assign the appropriate data transfer mode.

Agentless Microsoft Hyper-V Backup with CBT Incrementals:

Backup VMs running on a Hyper-V host without installing an agent on individual VMs. Vembu's proprietary Changed Block Tracking driver tracks the changed blocks in an efficient manner and runs quick incremental backups.

Disk Image Backup for Windows Servers and Workstations:

Configure image backups of Physical Windows Servers and Workstations which includes the operating system, applications, and user data for entire machine recovery or disaster recovery or to instantly access the machine in any virtual environment via quick boot options.

Native Tape Storage Support:

In addition to Vembu OffsiteDR and Vembu CloudDR as Offsite copy management, Vembu BDR suite extends its support for native tape storage as well. Users can now archive a copy of their backup data to tape medias or libraries.

File & Application Backup for Windows, Linux & Mac:

Vembu supports file and application level backup for all Windows, Linux, and Mac operating system running machines. Backup support for system folders such as My Documents, My Photos, Desktop, Browsers and etc., is also available.

Advance Reverse Incremental with Any-Point-In-Time-Full:

Since every incremental is a self-sufficient snapshot with pointers to the blocks in VembuHive File System, any incremental is instantaneously available as a full backup. There is no extra processing to restore an incremental backup compared to a full backup (no need for a merge).

Bare Metal Recovery:

The entire crashed physical system can be restored to the same or new hardware by using Vembu Recovery CD.

Automatic Backup Verification:

Vembu BDR Suite image verification process ensures that disk image backup data (physical disk image, VMware and Hyper-V) is in a bootable state. The integrity of backup data can be easily verified by monitoring the screenshots of the boot screen every day.

Quick VM Recovery:

This provides the flexibility to boot any VM and physical machine disk image backup instantly. For Windows-based Vembu BDR backup servers, machines are recovered instantly with Microsoft Hyper-V and VMware ESXi. In the case of Linux based Vembu BDR backup servers, Quick VM recovery is done with the help of KVM and VMware ESXi.

Permanent VM Recovery:

The backed up VMware and Hyper-V VMs can be permanently recovered to the same or different hosts after any major disaster or VM crash.

Basic & Advanced Retentions Policies:

The Multilevel GFS retention reduces the time taken to restore backed up machines and most importantly reduces the size of image files in the storage location. It also avoids retaining long chains of incremental and helps meet the requirements of your retention policy.

Cross-Platform Migration for VMware, Hyper-V & Physical Windows Disk Image Backups:

Since VMware, Hyper-V and Physical Windows Disk Image backups are stored at block level in a neutral format, Vembu BDR Suite makes it possible to instantly restore any incremental backup in any virtual disk format including VHD, VHDX, VMDK, VMDK-FLAT or IMG

Failover and Failback:

You can instantly failover the replicated VMware VMs from the source hosts on the target host during a VM crash. You can also failback the control to source ESXi host at any time.

Vembu Universal Explorer:

Vembu developed an exclusive free tool called Vembu Universal Explorer to instantly recover the individual Microsoft application items from the backed up data. Be it physical or virtual machine data, Vembu Universal Explorer recovers application items from Microsoft Exchange, SharePoint, SQL, and Active Directory without restoring the entire VM backup and disk image backup.

Free Edition Support:

Vembu introduced Free Edition in v3.7.0 release. From then, users can backup VMware, Hyper-V and Physical Windows Server with limited features at free of cost after trial period.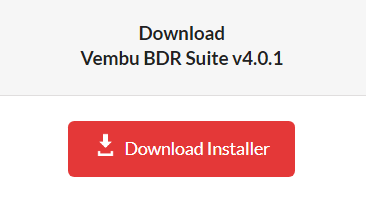 "Be social and share this on social media, if you feel this is worth sharing it"