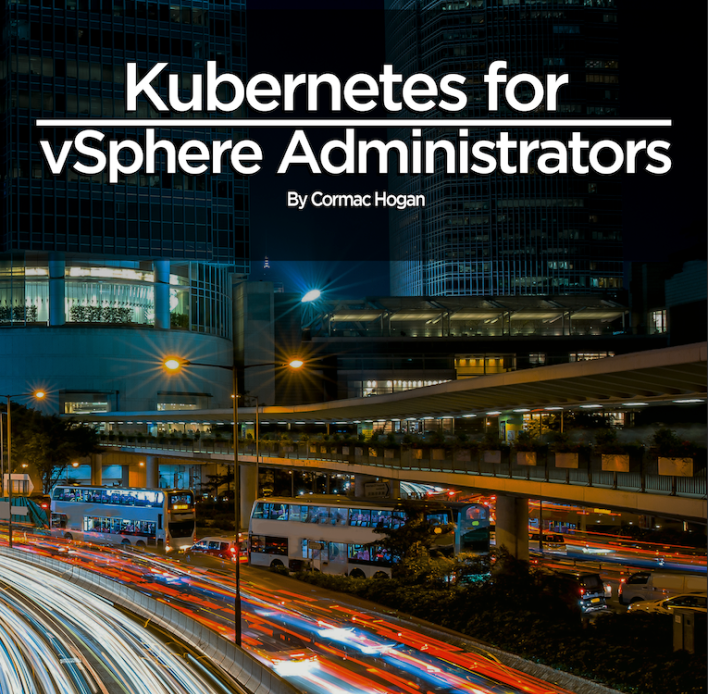 I started Kubernetes journey couple of years ago but can't find good material from vSphere point of view. Now I found this book which helps to understand the Kubernetes concepts via vSphere infrastructure layer. This is going to be one of the book in your list for Nex-Gen VMware jobs.
vSphere has been the de-facto data centre infrastructure platform of choice for the past decade. In recent years, a new platform has emerged – Kubernetes. But even Kubernetes benefits by running on vSphere. VMware has embraced Kubernetes and has their own Tanzu branded distributions available, which have been integrated with many existing vSphere products. This can be overwhelming for the vSphere administrators, who have traditionally managed virtual machine workloads, but are now faced with new concepts such as containers, Kubernetes, Pods, persistent volumes, load balancers, etc.
This is a book designed to help traditional vSphere Administrators take their first tentative steps with Kubernetes. It introduces the concept of containers, before moving into Kubernetes and discussing some of the most common entities found in Kubernetes, particularly focusing on compute, storage and networking. The book describes some of the most common ways of deploying Kubernetes on vSphere before moving onto VMware Tanzu branded distributions, such as TKG and vSphere with Tanzu. Deploying TKG and vSphere with Tanzu on vSphere infrastructure is examined in detail, along with Container Network Interfaces (CNI) and Container Storage Interfaces (CSI). Particular focus is paid to day 2 operations, and the tooling available to assist with managing, monitoring and troubleshooting these products.
The book finishes with some discussion about DevOps and DevSecOps, and shows what opportunities are available for a vSphere Administrator who is building up their skill-set in the world of Kubernetes.
You can buy this book here @Amazon
"Be social and share it with social media, if you feel worth sharing it"