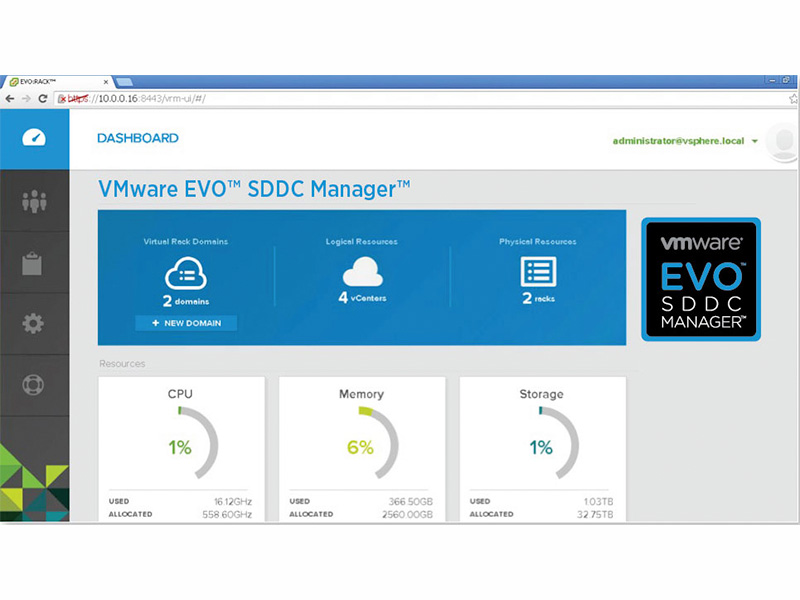 VMware EVO SDDC is an integrated software suite that powers a new class of integrated systems designed to provide the easiest path to an SDDC private cloud. EVO SDDC systems are turnkey solutions that combine qualified hardware (compute, networking, storage) with integrated VMware software to deliver a complete SDDC in a box. Based on modular hyper-converged infrastructure, EVO SDDC systems deliver elastic, scalable, and high performing infrastructure capable of addressing the needs of large-scale SDDC deployments in virtual infrastructure, Infrastructure-as-aService, and VDI. Every EVO SDDC system contains VMware's system management software – VMware EVO SDDC Manager – that radically simplifies infrastructure management by automating and simplifying many resource intensive administration tasks, such as system bring up, configuration of networks, resource provisioning, and life cycle management of upgrades and patches.
VMware EVO SDDC Manager
For the logical infrastructure, EVO SDDC includes the market-leading VMware virtualization and management components augmented by a new component, EVO SDDC Manager. EVO SDDC Manager serves as the single interface for managing the logical and physical infrastructure of the private cloud. From this interface, the IT administrator can provision new private cloud resources, monitor changes to the physical and logical infrastructure, and manage lifecycle and other operational activities. EVO SDDC Manager also provides REST-based APIs to integrate with the existing data center's management and monitoring tools.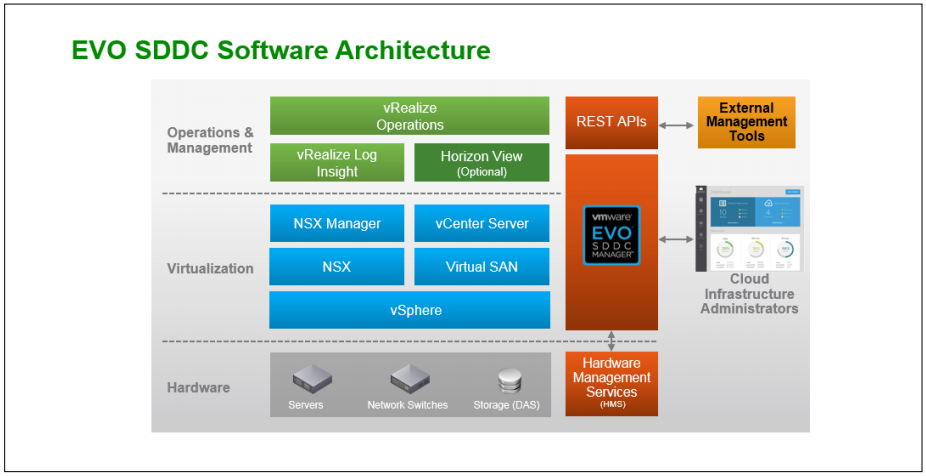 To configure and manage the underlying hardware, EVO SDDC Manager relies on the Hardware Management Service (HMS). The HMS is a hardware abstraction layer that interfaces with the hardware components, such as servers, switches, PDUs, and other physical devices. It is responsible for discovery, inventory, monitoring, configuration, and lifecycle management of individual servers or switches. For example, HMS automatically discovers new servers, bootstraps or resets them, and processes hardware events (e.g., alarms, sensor data threshold triggers) and state changes. The Hardware Management Service then exposes events and states changes to the rest of the EVO SDDC environment in a hardware-independent manner. HMS also supports rack-level boot-up sequencing of hardware components and provides services, such as secure, remote, and hard reset of these components. HMS is part of a dedicated management infrastructure running in each physical rack.
https://youtu.be/WagEPBXiwpw
Source:  VMware White Papers