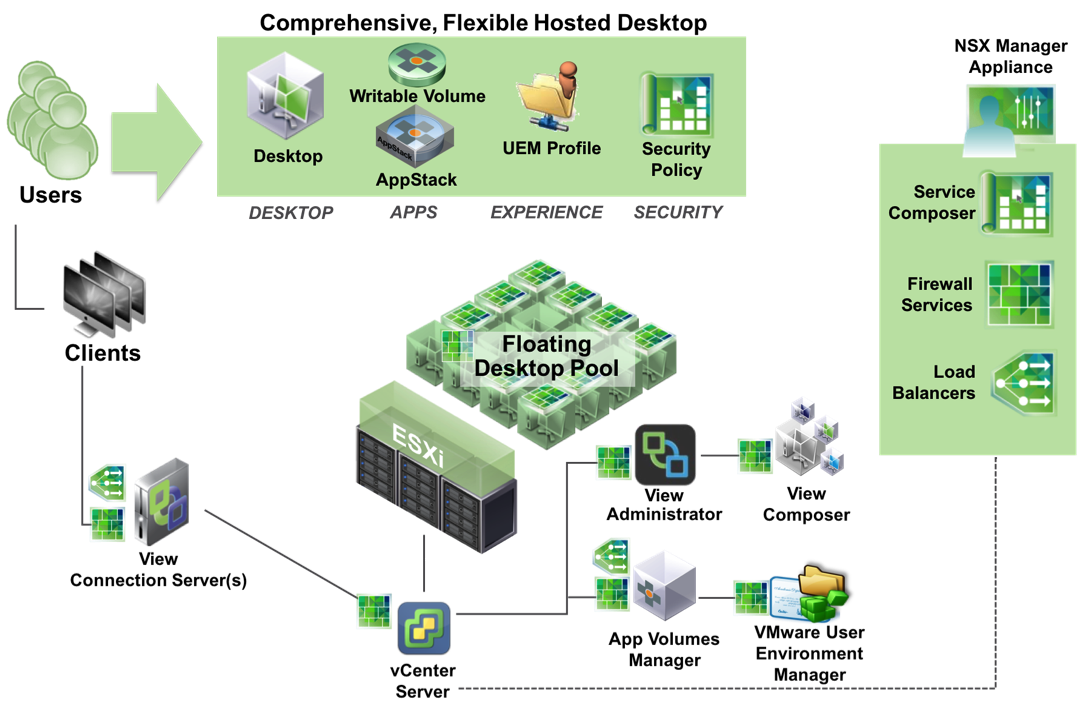 VMware Horizon 6 brings innovation to the desktop platform and extends app delivery across any device. Customers and partners agree that VMware is delivering the most comprehensive mobile desktop solution. If we are looking for excellent user experience, ease of management, and a reasonable cost model, there simply is not a better portfolio of products in the industry today. This portfolio is built on the VMware software defined data center (SDDC), delivering an optimized infrastructure for workspace services.
The main component of SDDC is VMware NSX. VMware wants to describe how the confluence of end-user-computing capabilities (such as Horizon 6 with App Volumes and VMware User Environment Manager) combines with NSX to change how IT approaches desktop and app delivery with unprecedented simplicity, agility, and security. VMware shared a new deep-dive video that walks through this unified platform. But first let us look at this solution from the perspective of stakeholders, and the describe the benefits they derive:
End users – The unified platform deploys and configures the corporate hosted desktop to the users' liking. Any changes that users make are retained, even though they might access a different "throwaway" desktop every day. As end users, they get access to the applications and services that they need and are not exposed to networks that are unnecessary for their roles. Spectacular user-experience comes from our world-class hypervisor technologies, via efficient display protocols, delivered to just about any endpoint device.
Administrators – Administrators benefit from a set of products that are tightly integrated, easy to deploy, and intuitively managed. Desktop and application life cycle management is centralized and simple with features such as View Composer linked-clone pools. Scalability is predictable; good performance is assured as the environment grows larger.
Businesses – For businesses, there are no barriers to quickly onboarding new use cases. Newly acquired applications can be packaged and delivered as App Volumes containers, and identity-based network policies can be put in place with the NSX distributed firewall. This means that as the business organization quickly changes, there is little risk of not passing the next security audit.
Source:   VMware End-User Computing Blog