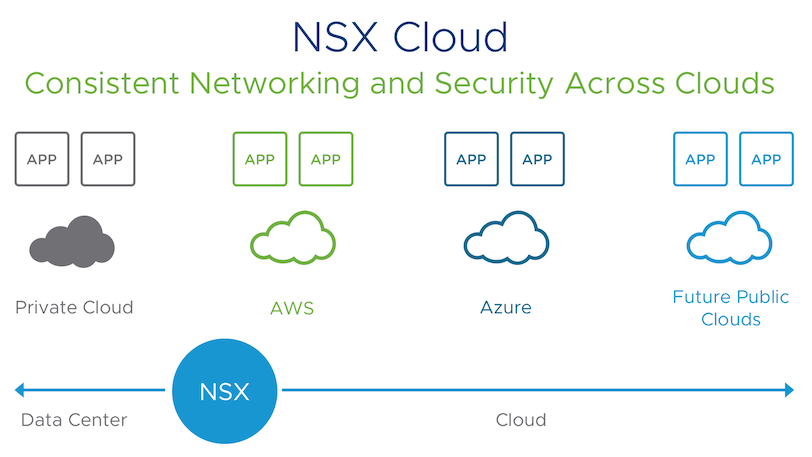 Do you love to hear more about NSX products? Time to explore NSX Cloud:) VMware NSX Cloud provides a single pane of glass for managing the security for your entire hybrid cloud across AWS, Azure, and on-premises. Micro-segmentation security rules can be defined based on a set of rich abstractions, such as VM name, OS type, AMI-ID, and custom tags, in a true cloud-agnostic manner. NSX Cloud also provides the ability to create logical networking topologies within public clouds. In this session, you will find out key value propositions, use cases, and deployment options. Basic understanding of AWS and Azure cloud constructs and services is required.
NSX Cloud delivers a new model for multi-cloud network management, providing consistent networking and security for applications running natively in the public cloud, across multiple public clouds. Together with NSX Data Center, operators get one single view of the networking services and security policies that are applied to all workloads, whether that's a virtual machine running in the private data center as many do today, or an AWS or Azure workload they've added. NSX Cloud uses the technology you have running in your data center with NSX Data Center and extends it to native public cloud endpoints.
Consistent Security Across Clouds
NSX Cloud allows you to drop in public cloud endpoints (e.g. AWS, Azure) into your NSX Data Center inventory. By doing this, policies that are written in the distributed firewall – based on your tags, network ports, application context, etc. – now apply to these endpoints.

Precise Control over Cloud Networking
NSX Cloud complements the native services available from the public cloud providers, so you can continue using the public cloud provider's infrastructure and application services for workloads without limitation (e.g., AWS ELB / Azure Load Balancer, AWS Route53 / Azure DNS, AWS Direct Connect / Azure ExpressRoute, and Amazon RDS / Azure Database) and giving IT precise control over cloud networking topologies, traffic flows, IP addressing, and protocols used within and across multiple public clouds. Operators can now provision consistent application stacks or services – including networking and security – across multiple clouds.
End-to-end visibility and operational control
NSX Cloud provides standard interfaces and protocols to access the network data you need from your cloud networks. Flow, packet, and event information is available via IPFIX, Traceflow, Port Mirroring, and Syslog. This data can be consumed by your existing Day 2 operations tools, and used to enable deep, end-to-end visibility for monitoring, troubleshooting and auditing or automated via REST API requests using your existing automation tools.

VMworld 2018 video about NSX Cloud
"Be social and share this on social media, if you feel this is worth sharing it"