BDR Suite is a portfolio of software products that cater to the backup and disaster recovery needs of organizations. It helps protect your data hosted in any environment – physical, virtual, or the Cloud. It is also optimized for Service Providers looking to provide BaaS and DRaaS to their customers. The products under the Suite can be deployed flexibly in any location like on-premise, offsite, and the Cloud. BDRSuite is the most cost-effective and comprehensive backup & disaster recovery software designed to protect data across virtual (VMware, Hyper-V, KVM), Server (Windows, Linux, FileShare/NAS), Endpoints (Windows, Linux, Mac), Cloud (AWS, Azure), SaaS (Microsoft 365, Google Workspace) and Applications & Databases (Microsoft Exchange Server, SQL Server, SharePoint and MySQL).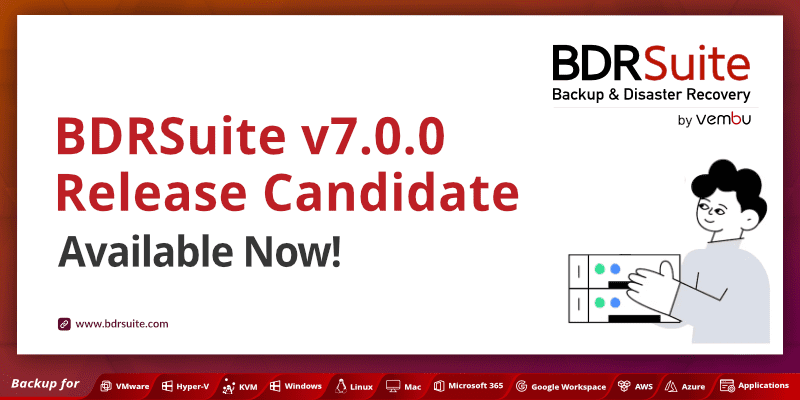 This release candidate introduces new features and enhancements that further expand the capabilities of BDRSuite.
New Features
KVM Backup and Recovery:  BDRSuite now offers agentless backup for KVM virtual machines through seamless integration with KVM Hypervisor. It also includes changed block tracking, automated scheduling, flexible recovery options, and wide backup storage target compatibility.
Azure Backup and Recovery:  BDRSuite offers agentless backup for Azure virtual machines using Azure Native APIs. It also includes incremental backups, automated scheduling, flexible recovery options, and wide backup storage target compatibility. 
AWS Backup and Recovery: In the previous version, configuring and scheduling automated snapshots of EC2 instances was supported for backups. This release brings the added capability of configuring backups to be stored locally or in the cloud, alongside support for multiple recovery options. 
Amazon Web Services (AWS) follows a Shared Responsibility Model. This means AWS is responsible for the infrastructure and service availability, while organizations have responsibilities such as protecting data, managing user access, and ensuring compliance. Organizations should take necessary measures to safeguard their data, implement security controls, and perform regular backups to mitigate risks and maintain data integrity. AWS offers multiple options for backing up EC2 instances such as Amazon EBS Snapshots, Amazon S3, etc. However, using third-party AWS backup tools is often recommended for more granular control, flexible backup & recovery options, advanced scheduling options, long-term retention, and more.
BDRSuite v7.0.0 RC Download Link:
 BDRSuite v7.0.0 RC is now ready for download and is now live on our official website – 
Download BDRSuite v7.0.0 RC
"Be social and share it with social media, if you feel worth sharing it"