Question: Have you migrated any vSphere Infrastructure from one major version to other? If yes what are VMware products involved in the migration? How you created high level technical plan? Which components are upgraded first and why?
It's quite some time that I went for Upgrades as stuck with Cloud based projects but my new job role brought me this opportunity to upgrade vSphere 5.5 suite to 6.x and good thing is it has below products involved. More products involved causes more complexity to create Upgrade plan and make sure they are going as per Best practices. VMware View (VDI) running on vSphere platform using VDP (VMware Data Protector along with EMC Avamar) for Backup solution & Site Recovery Manager (SRM) for Disaster Recovery solution. Horizon View is using MFA – Multi Factor Authentication with Teradigi Zero Clients installed at Customer site. This is interesting Production Scenario with 10 ESXi servers sitting in Production and DR sites.
You may  think server count is less but look at the products and complexity involved in installing Teradici driver on ESXi host, Updated the firmware version for Teradici card at Wyse Terminal followed by upgrading VMware Tools, Teradici driver at Guest OS, Upgrade View Client & finally Virtual Hardware upgrade. It's long list but I'm excited to share this via Real Time Scenario question. Let's jump into our Interview part and intention of asking this query is to test your skills at Subject Matter of Expert (SME) level who directly performed this vSphere upgrade activity or implemented under the direction of Architect.
Your first step starts here "Update sequence for VMware vSphere 5.5 and its compatible VMware products (2057795)"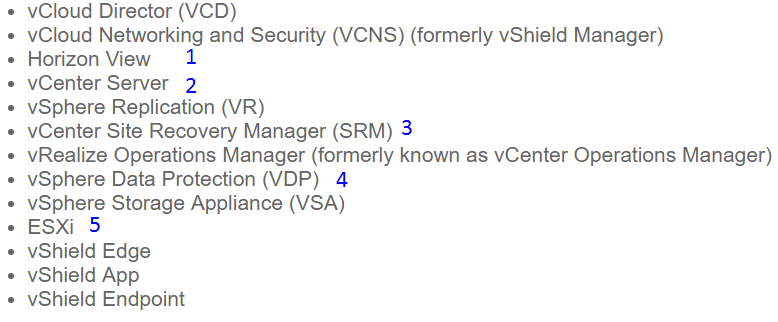 While answering this question you need to understand the upgrade sequence first VMware products and KB2057795 gives you this information. I gave numbers next to each product as per given scenario and below chart gives you detailed information about components of each product.

This helps you to explain the product sequence followed by individual components. So if someone asking for Upgrade Scenario question, you need to first ask them which VMware products are involved in the Migration activity. If they says it's simple vCenter & ESXi setup then your answer is very simple like first vCenter server and then ESXi upgrade. This is about software products but do you really upgrade software and ignore hardware stuff?? really not. You need to ask him are we going to refresh hardware or going with same hardware. In both cases you need to make sure to update the drivers, firmware and BIOS to latest as per vendor recommendations to match the recommendations. Wait wait … have you check if this ESXi 6.0 supported by hardware? (Hardware Compatibility List), if not this should be your very first step before even talk about upgrade. Here you can find VMware Compatibility Guide here to verify existing hardware compatibility. Also make sure you verify that any third party products like Zerto, Veeam, Scale IO … etc are compatible with vSphere 6.x or not. If required you need to bring them to latest level to avoid unwanted outages.
So much theory I wrote and finally, vSphere 6.x upgrade project is big scenario and you can ask multiple questions to Interviewer to get better clarify of the Scenario. If you start asking him questions about the Upgrade scenario, he/she concludes that you really worked in Customer production Infrastructure. Make sure to use Change management Tool (ITIL) is another key to plan and schedule such upgrade activities. Mostly you will be assigned with Project Manager and regular meetings with Customer,Technical teams like VMware, Storage & Network to plan and execute the Upgrade Project. That's it for now and I will try to add more points to this Scenario based on my upcoming project. Thanks for following my blog and please share this content with required people.