Zerto Virtual Replication is the industry's first enterprise class disaster recovery solution from on-premise to Amazon Web Services (AWS). This critical capability extends the Cloud Continuity Vision with consistent and continuous replication of production workloads from VMware and Microsoft environments to AWS, delivering more options for disaster recovery. By leveraging AWS for the target site, capital costs are dramatically reduced and replaced with a predictable monthly service. Lastly, the time to acquire and configure hardware is eliminated, making it easy for IT to quickly meet changing business requirements
Zerto has developed a software-based platform for workload mobility, migration, protection and recovery in hybrid-cloud environments, allowing for seamless flexibility and manageability of applications whether they reside on-premise or in the cloud. Zerto's Cloud Continuity Platform is based on the award-winning Zerto Virtual Replication software which has become the standard for protection, recovery and migration of data in cloud and virtualized data centers.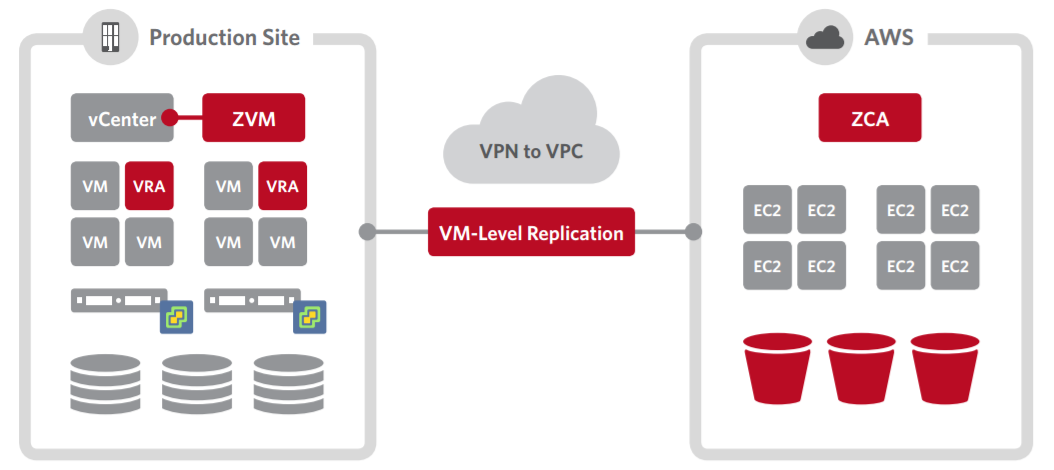 Zerto Virtual Replication offers an RPO (Recovery Point Objective) of seconds and consistent point in time recovery for multiple-VM, production applications. Some additional features of Zerto Virtual Replication for Amazon AWS include:
Hypervisor-based Replication
Granular, VM-level protection
Full Orchestration to AWS
Aggressive Service Levels
Simple management
ZCA – Zerto Cloud Appliance plays critical role AWS cloud which plays all key roles at recovery site. Only thing which we need to remember is creation of VPG's can be performed only from on-premise ZVM which means – ZCA has limited options for now. Let's wait for future versions to see more improvements in this area.


Source:   Zerto AWS documentation