Zerto Virtual Replication (ZVR)  is the fastest replication and recovery solution to Microsoft Azure with enterprise-class features. Whether you are using VMware vSphere or Microsoft Hyper-V, you can achieve significant cost savings by removing the need to provision and manage expensive physical DR sites. Utilize the power of Azure to have limitless on-demand capacity when you need it most, only paying for what you use. No other solution can simultaneously replicate VMs on premise and to Microsoft Azure with multi-VM consistency groupings, any-point-in-time recovery, RPOs in seconds and on-the -fly conversion to deliver RTOs in minutes — making Zerto Virtual Replication the only enterprise-class DR solution to Microsoft Azure.
Migrations to Azure Cloud
Protect your private cloud infrastructure by quickly deploying Disaster Recovery in Azure with enterprise-class Zerto Virtual Replication (ZVR). Zerto helps to create Hybrid Cloud environments by integrating your on-premise infrastructure with public clouds. ZVR is hardware and hypervisor agnostic enabling replication and orchestration from VMware vSphere and Hyper-V environments to Azure.
Zerto is a powerful platform that:
Recovers instantly from power, hardware failures, natural disasters, ransomware and other security breaches
Creates Hybrid Cloud environments with enterprise application mobility
Restores individual files from any point in time in the last 30 days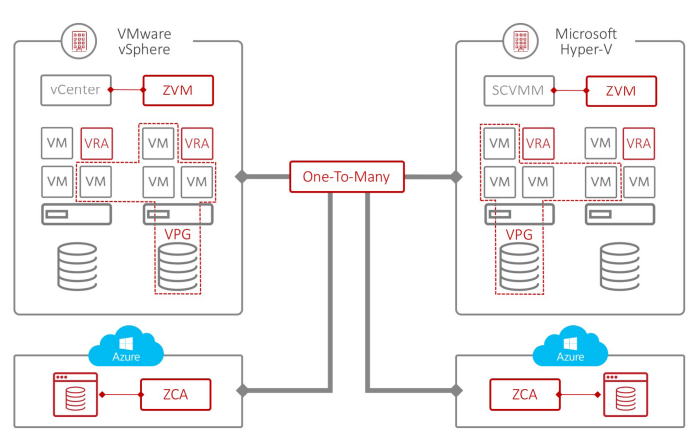 Zerto Virtual Replication (ZVR) 5.0 is the only all-in-one replication and recovery solution that makes enterprise-class disaster recovery to the cloud simple and scalable. Installable in minutes with no downtime, simultaneously replicate VMs within the same data center, to a remote data center and to Microsoft Azure. All with no snapshots, no performance impact and only seconds of data loss. By utilizing ZVR 5.0 and Microsoft Azure, the need to provision and manage your own disaster recovery site is removed altogether. Achieve significant cost savings while gaining limitless capacity and scalability on demand.

Quickly restore VMs, files and folders direct to production from increments in seconds. Recover and migrate complete applications in consistency groups to Azure in minutes in the event of an individual application failure, site-wide outage or as part of a planned migration. Minimize the impact of disasters, logical corruptions or ransomware infections by rewinding and recovering from seconds before the incident occurred, without having to accept the data loss of using backups.
Summary:
In comparison to per-VM, snapshot based or offline data copy methods, no other solution can match the features, speed and efficiency of Zerto Virtual Replication for migrating tens to hundreds of VMs simultaneously to the cloud with Azure, saving significant time in migration projects by moving large data sets and VMs quickly and efficiently.
"Be social and share it with social media, if you feel worth sharing it"