Last year there was an announcement from VMware about partnership with AWS and later they sold vCloud Air public cloud to OVH. It seems VMware + AWS (Cloud Leader) partnership may create some equation changes for Microsoft as there are lot of VMware based customers in the market and they are looking for feasible cloud solutions. This offering is going to be a native, fully-managed offering that runs the VMware SDDC stack directly on bare-metal AWS infrastructure that maintains the elasticity and security. This allows clients to benefit from the scalability and resiliency of AWS, along with the networking and system-level hardware features that are fundamental parts of our security-first architecture.
At VMworld 2017, VMware and Amazon announced the initial availability of VMware Cloud on AWS. This service is initially available in the US West (Oregon) region through VMware and members of the VMware Partner Network. It is designed to support popular use cases such as data center extension, application development & testing, and application migration. Client's existing skills, investment in training, operational practices, and investment in software licenses remain relevant and applicable when they move to the public cloud. As part of that move client can forget about building & running data centers, modernizing hardware, and scaling to meet transient or short-term demand. They can also take advantage of a long list of AWS compute, database, analytics, IoT, AI, security, mobile, deployment and application services.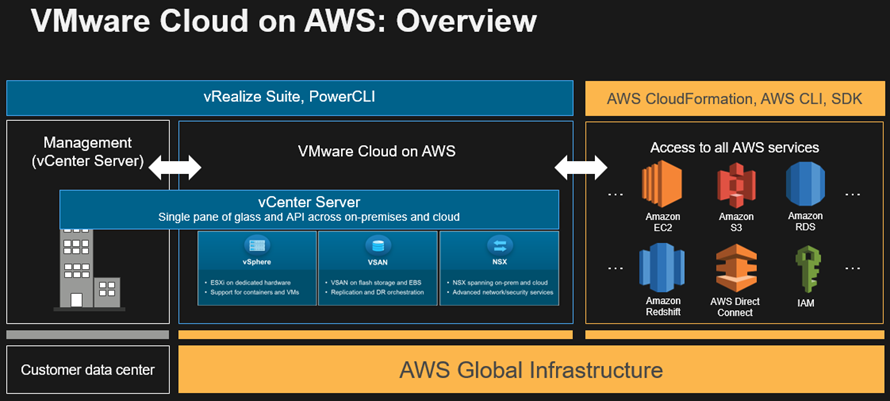 This offering is sold, delivered, supported, and billed by VMware. It supports custom-sized VMs, runs any OS that is supported by VMware, and makes use of single-tenant bare-metal AWS infrastructure so that you can bring your Windows Server licenses to the cloud. Each SDDC (Software-Defined Data Center) consists of 4 to 16 instances, each with 36 cores, 512 GB of memory, and 15.2 TB of NVMe storage. Clusters currently run in a single AWS Availability Zone (AZ) with support in the works for clusters that span AZs. You can spin up an entire VMware SDDC in a couple of hours, and scale host capacity up and down in minutes. The NSX networking platform (powered by the AWS Elastic Networking Adapter running at up to 25 Gbps) supports multicast traffic, separate networks for management and compute, and IPSec VPN tunnels to on-premises firewalls, routers, and so forth. Here is the latest video from VMware to explain SDDC deployment in few clicks.
The VMware and third-party management tools (vCenter Server, PowerCLI, the vRealize Suite, and code that calls the vSphere API) that you use today will work just fine when you build a hybrid VMware environment that combines your existing on-premises resources and those that you launch in AWS. This hybrid environment will use a new VMware Hybrid Linked Mode to create a single, unified view of your on-premises and cloud resources. You can use familiar VMware tools to manage your applications, without having to purchase any new or custom hardware, rewrite applications, or modify your operating model. VMware and AWS are continuing to invest to enable support for new capabilities and use cases, such as application migration, data center expansion, and application test and development. Work is under way to add additional AWS regions, support more use cases such as disaster recovery and data center consolidation, add certifications, and enable even deeper integration with AWS services.
"Be social and share it with social media, if you feel worth sharing it"