VMware Workspace ONE deploys and manages resources to a single digital workspace on iOS, Android, macOS, and Windows 10 devices. Services are built on the integration of VMware Workspace ONE UEM (Unified Endpoint Management), VMware Identity Manager, and VMware Horizon. The leading unified endpoint management technology from VMware takes a user-centric approach to enable IT to centrally manage every device, every app, and every mobile use case, both corporate-owned and BYOD. VMware AirWatch powers VMware Workspace ONE, the integrated digital workspace platform. With VMware UEM, you can manage and secure all endpoints (including desktops) running any OS (including Windows 10, macOS, and Chrome OS) and any app, across diverse use cases, all from a single holistic platform.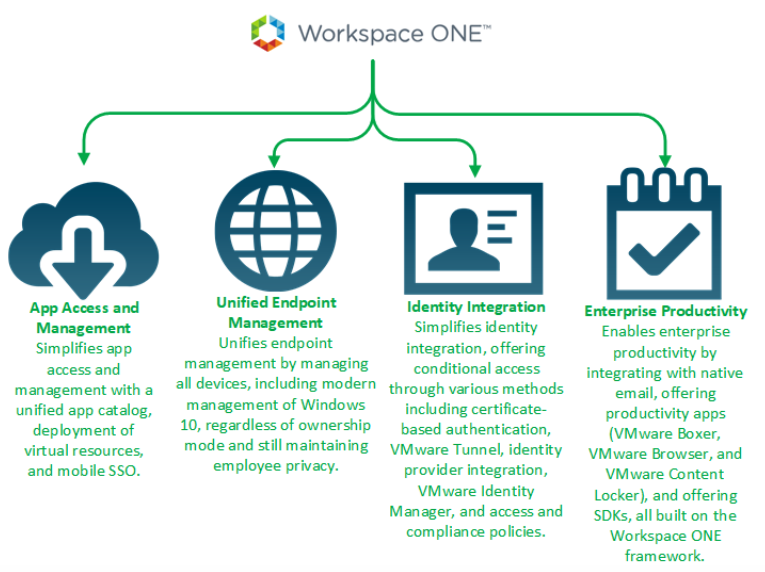 Workspace ONE is a set of integrated systems that include Workspace ONE UEM (unified end-point management), VMware Identity Manager, and VMware Horizon.

1 VMware Identity Manager services: provide the identity-related components, including authentication for users who use single sign-on to access their resources. You create a set of policies that relate to networking and authentication to control access to these resources.

2 Workspace ONE UEM services: formerly AirWatch, provide device enrollment, application distribution, and compliance checking tools to ensure that remote access devices meet corporate security standards. Users from
enrolled devices can log in to their enabled applications securely without entering multiple passwords.

3 VMware Horizon services: provide remote desktops and applications in the data center and deliver these desktops and applications to employees as managed services. End users gain a familiar, personalized environment that they can access from any number of devices anywhere throughout the enterprise or from home. Administrators gain centralized control, efficiency, and security by having desktop data in the data center.
"Be social and share this on social media, if you feel this is worth sharing it"