Are you excited to run docker/container workloads in VMware?. How it can help Administrator or Developer to save time or help them to build seamless workloads vs registry which extends docker distribution for open source projects vs rich management portal for the DevOps team. VIC enables IT teams to seamlessly run traditional workloads and container workloads side-by-side on existing vSphere infrastructure.
You install vSphere Integrated Containers by deploying an OVA appliance. The OVA appliance provides access to all of the vSphere Integrated Containers components and services. vSphere Integrated Containers is designed to solve many of the challenges associated with putting containerized applications into production. It directly uses the clustering, dynamic scheduling, and virtualized infrastructure in vSphere and bypasses the need to maintain discrete Linux VMs as container hosts. vSphere Integrated Containers allows the vSphere administrator to provide a container management endpoint to a user as a service. At the same time, the vSphere administrator remains in complete control over the infrastructure that the container management endpoint service depends on.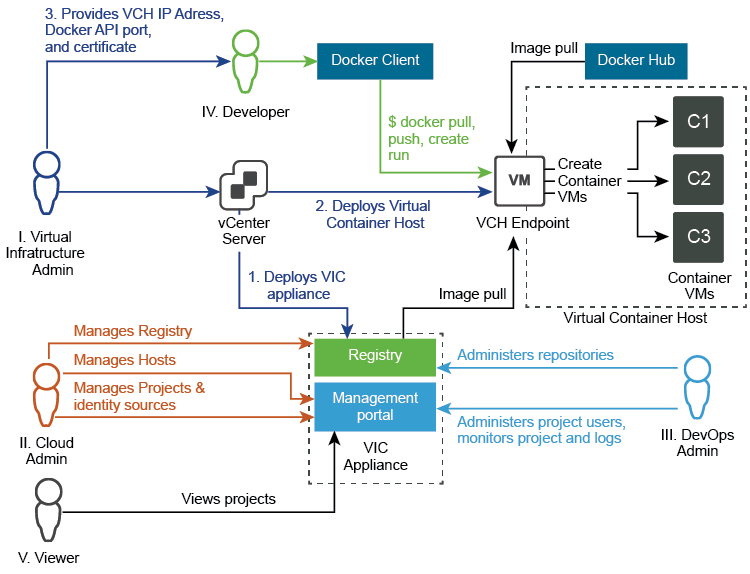 vSphere Integrated Containers 14 includes the following new features in this release:
Added the ability to add VCHs to DRS VM affinity groups.
Softened the requirement for DRS to be enabled on clusters on which you deploy VCHs.
Added a namespace concept so that administrators can only allow certain namespaces of a given registry when adding new registries to the management portal.
Added project level registries in vSphere Integrated Containers Management Portal managed by DevOps admins.
Enforced whitelist registry mode that allows search and provision only within registries added as global or project registries in vSphere Integrated Containers Management Portal.
Added optional card view on the Internal Repositories page that allows for streamlined deployment of images stored in the vSphere Integrated Containers Registry.
Support for vSphere 6.7.
Support for VMware vSphere Remote Office Branch Office (ROBO) Advanced deployments.
Simplified the procedure to upgrade the vSphere Integrated Containers Appliance.
General UI and usability improvements in vSphere Integrated Containers Management Portal.
The solution is delivered as an appliance, that comprises the following major components:
vSphere Integrated Containers Engine, a container runtime for vSphere that allows you to provision containers as virtual machines, offering the same security and functionality of virtual machines in VMware ESXi™ hosts or vCenter Server® instances.
vSphere Integrated Containers Plug-In for vSphere Client, that provides information about your vSphere Integrated Containers setup and allows you to deploy virtual container hosts directly from the vSphere Client.
vSphere Integrated Containers Registry, an enterprise-class container registry server that stores and distributes container images. vSphere Integrated Containers Registry extends the Docker Distribution open source project by adding the functionalities that an enterprise requires, such as security, identity and management.
vSphere Integrated Containers Management Portal, a container management portal that provides a UI for DevOps teams to provision and manage containers, including the ability to obtain statistics and information about container instances. Cloud administrators can manage container hosts and apply governance to their usage, including capacity quotas and approval workflows. Cloud administrators can create projects, and assign users and resources such as registries and virtual container hosts to those projects.
These components currently support the Docker image format. vSphere Integrated Containers is entirely Open Source and free to use. vSphere Integrated Containers depends on certain features that are included in the following vSphere Editions:
vSphere Enterprise Plus
vSphere Remote Office Branch Office (ROBO) Advanced
"Be social and share this on social media, if you feel this is worth sharing it"