VMware NSX deployments are increased over the years and it's time for VMware Administrators to learn this technology. Do not treat NSX as network team thing as it heavily relies on vDS which is running at vCenter server. VTEP is another key term configured as VMKernel IP address for each ESXi server. Most of them has this common question like where to start? Here are some quick videos (below 10 minutes) helps you to learn basics and overview of NSX. I recommend these videos as a first step followed by taking a course for VMware NSX. NSX is a completely non-disruptive solution which can be deployed on any IP network from any vendor – both existing traditional networking models and next generation fabric architectures.
VMware NSX Introduction
VMware NSX is the network virtualization platform that delivers the operational model of a VM for the network to transform data center operations and economics.
https://youtu.be/gqcwJEhIiqs
NSX Primary Use Cases
Customers are using NSX to drive business benefits as show in the figure below. The main themes for NSX  deployments are Security, IT automation and Application Continuity. Click on each heading to learn more about that use case.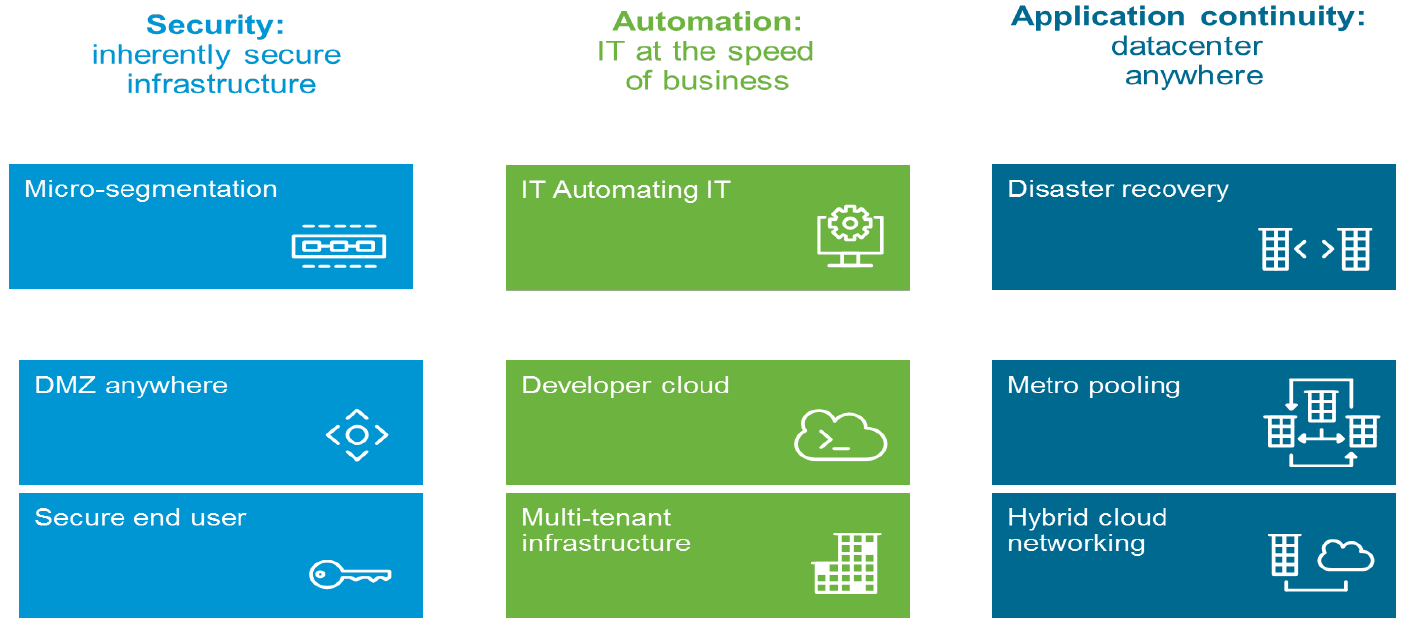 NSX embeds security functions right into the hypervisor. It delivers micro-segmentation and granular security to the individual workload, enabling a fundamentally more secure data center. Security policies travel with the workloads, independent of where workloads are in the network topology.
NSX abstracts networking from the underlying hardware and attaches networking and security policies to their associated workloads. Applications and data can reside and be accessible anywhere. Move workloads from one data center to another, or deploy them into a hybrid cloud environment.
NSX lets you treat your physical network as a pool of transport capacity, with network and security services attached to workloads using a policy-driven approach. This automates networking operations and eliminates bottlenecks associated with hardware-based networks.
"Be social and share it with social media, if you feel worth sharing it"