Migrations from on-prem to Cloud in VMware stack made easy by VMware HCX. However, non-vSphere platforms remain unlocked with previous versions but HCX Enterprise brought the new features to perform the migrations from RedHat OpenStack/KVM, and Microsoft Hyper-V platforms. (Nutanix AHV is not listed). Organizations adopt hybrid and multi-cloud architectures with local and in the cloud with the goal of simplifying operations and increasing business agility. However, enterprises cannot realize the promise of a modern data center or hybrid cloud until they can freely move applications and workloads between environments. VMware HCX enables data center and cloud transformations by simplifying the process of connecting, populating and continually optimizing application placement in modern cloud infrastructures.
We can start using HCX OS Assisted Migration to migrate non-vSphere workloads into a vSphere environment with HCX Enterprise. Customers use VMware HCX to migrate and rebalance vSphere workloads to VMware Cloud Foundation based private clouds and public clouds (such as VMware Cloud on AWS, IBM Cloud, etc.) as part of data center modernization and evacuation projects and hybrid cloud initiatives. HCX delivers live and bulk migration capabilities without requiring a redesign of the application or rearchitecting of networks. Now there's a new data mover in HCX for migrating non-vSphere workloads (for example, applications running on RedHat OpenStack/KVM, and Microsoft Hyper-V environments) into a vSphere environment, providing customers a simple and seamless path to re-platforming application workloads. This new capability is called OS Assisted Migration (OSAM) and is available in the HCX Enterprise edition.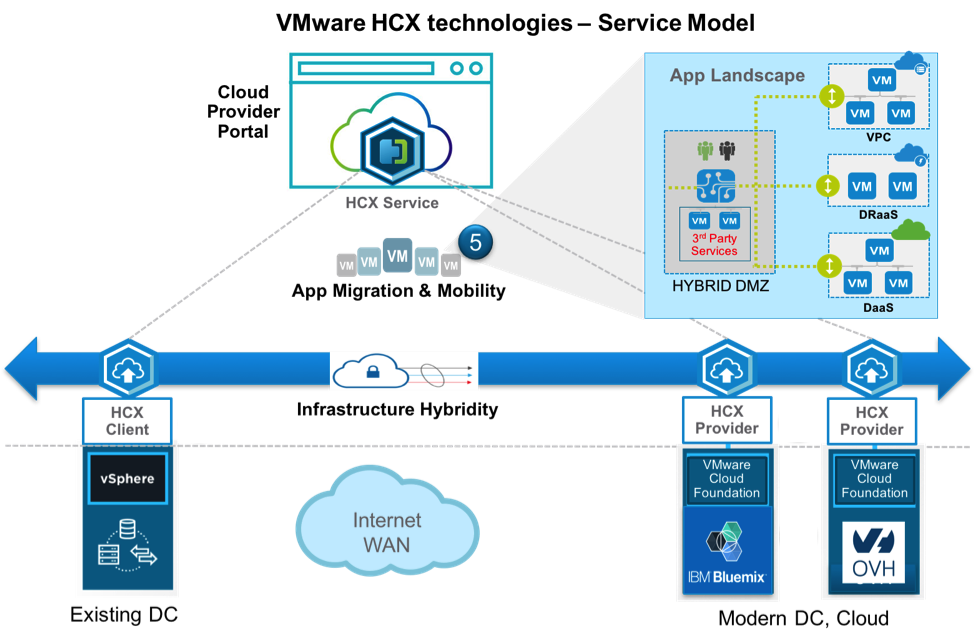 Non-vSphere to vSphere Migration
With VMware HCX Enterprise, VMware now supports non-vSphere workload migration starting with KVM and Hyper-V, providing customers a simple path to re-platforming applications for complete control.

Large Scale Bulk Migration
With this most recent release, VMware is enhancing VMware HCX with VMware vMotion, combining the scalability benefits of bulk migration (parallelism, scheduling, etc.) with the ability to migrate hundreds of live workloads at once with no downtime. With VMware HCX vMotion, virtual machines (VMs) can be replicated to the new target in bulk and the migration can be completed at a scheduled time, allowing customers to control application cutover to minimize business risk.

Advanced Disaster Recovery with Site Recovery Manager Readiness
VMware HCX Enterprise works with VMware Site Recovery Manager (SRM) to combine best-in-class disaster recovery capabilities with best-in-class hybrid connectivity for secure, efficient backup and recovery of critical workloads. With this joint solution, customers can leverage the VMware HCX hybrid interconnect to optimize bandwidth and connectivity, secure VMs in transit and stretch networks to simplify IP address management for recovered VMs. VMware HCX also accelerates replication processes by eliminating incompatibility issues across networks and storage.
Sessions and Hands-on Labs at VMWorld 2019:  The good news is there are 31 sessions and ways you can learn more about some aspect of HCX. If you are attending VMworld I encourage you to check out the following sessions:
Session – HCX: Automating Workload Migration for Data Centers and Clouds
Session – Workload Migration Techniques for On-Premises and Cloud Infrastructures
Finally, a good video to cover cloud migration overview. Customers use HCX to provide seamless migration of hundreds of VMs. This allows bi-directional, parallel migration on a secure high-performance overlay, using existing WAN, VPN or private lines.
"Be social and share this on social media, if you feel this is worth sharing it"