While everyone waiting for Broadcom's VMware acquisition latest updates, VMware released their latest VCF Software with more customer-centric features. To manage the logical infrastructure in the private cloud, VMware Cloud Foundation augments the VMware virtualization and management components with VMware Cloud Builder and VMware Cloud Foundation SDDC Manager. VMware Cloud Foundation provides a unique hybrid cloud platform for both traditional enterprise and modern applications. Based on a proven and comprehensive software-defined stack including VMware vSphere, VMware VMware vSAN, VMware NSX, VMware vSphere with VMware Tanzu, and VMware Aria Suite, VMware Cloud Foundation provides a complete set of software-defined services for compute, storage, network, container, and cloud management. The result is an agile, reliable, efficient cloud infrastructure that offers consistent operations across private and public clouds.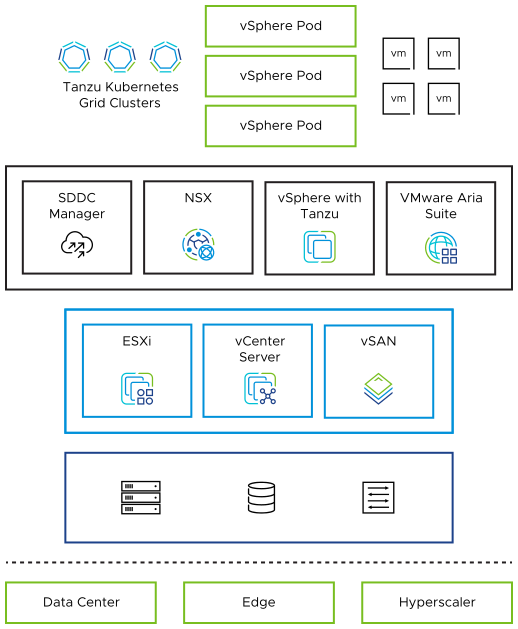 The VMware Cloud Foundation software product comprises the following software Bill-of-Materials (BOM). The components in the BOM are interoperable and compatible.
| | |
| --- | --- |
| Software Component | Version |
| Cloud Builder VM | 5.1 |
| SDDC Manager | 5.1 |
| VMware vCenter Server Appliance | 8.0 Update 2a |
| VMware ESXi | 8.0 Update 2 |
| | 8.0 Update 2 |
| VMware NSX | 4.1.2.1 |
| VMware Aria Suite Lifecycle | 8.14 |
What's New
The VMware Cloud Foundation (VCF) 5.1 release includes the following:
Support for vSAN ESA: vSAN ESA is an alternative, single-tier architecture designed ground up for NVMe-based platforms to deliver higher performance with more predictable I/O latencies, higher space efficiency, per-object based data services, and native, high-performant snapshots.
Non-DHCP option for Tunnel Endpoint (TEP) IP assignment: SDDC Manager now provides the option to select Static or DHCP-based IP assignments to Host TEPs for stretched clusters and L3-aware clusters.
vSphere Distributed Services engine for Ready nodes: AMD-Pensando and NVIDIA BlueField-2 DPUs are now supported. Offloading the Virtual Distributed Switch (VDS) and NSX network and security functions to the hardware provides significant performance improvements for low latency and high bandwidth applications. NSX-distributed firewall processing is also offloaded from the server CPUs to the network silicon.
Multi-pNIC/Multi-vSphere Distributed Switch UI enhancements: 

VCF

users can configure complex networking configurations, including more vSphere Distributed Switch and NSX switch-related configurations, through the SDDC Manager UI.
Distributed Virtual Port Group Separation for management domain appliances: Enables the traffic isolation between management VMs (such as SDDC Manager, NSX Manager, and vCenter) and ESXi Management VMkernel interfaces
Support for vSphere Lifecycle Manager images in management domain:

VCF

users can deploy management domain using vSphere Lifecycle Manager (vLCM) images during new

VCF

instance deployment
Mixed-mode Support for Workload Domains: A

VCF

instance can exist in a mixed BOM state where the workload domains are on different

VCF

5.x versions. Note: The management domain should be on the highest version in the instance.
Asynchronous update of the pre-check files: The upgrade pre-checks can be updated asynchronously with new pre-checks using a pre-check file provided by VMware.
Workload domain NSX integration: Support for multiple NSX-enabled VDSs for Distributed Firewall use cases
Tier-0/1 optional for

VCF

Edge cluster: When creating an Edge cluster with the

VCF

API, the Tier-0 and Tier-1 gateways are now optional.

VCF

Edge nodes support static or pooled IP: When creating or expanding an Edge cluster using

VCF

APIs, Edge node TEP configuration may come from an NSX IP pool or be specified statically as in earlier releases.
Support for mixed license deployment: A combination of keyed and keyless licenses can be used within the same

VCF

instance.
Integration with Workspace ONE Broker: Provides identity federation and SSO across vCenter, NSX, and SDDC Manager.

VCF

administrators can add Okta to Workspace ONE Broker as a Day-N operation using the SDDC Manager UI.
VMware vRealize rebranding: VMware recently renamed the vRealize Suite of products to VMware Aria Suite.
VMware Validated Solutions: All VMware Validated Solutions are updated to support VMware Cloud Foundation 5.1.
"Be social and share it with social media, if you feel it worth sharing it"