Virtualization Administrators (VMware or Hyper-V) are familiar with known issues with daily backups and using different products for each of the platform. Vembu offers one backup solution for both VMware & Hyper-V platforms to solve this puzzle of using multiple backup products in single Infrastructure. Vembu VMBackup is a Backup and Disaster Recovery software that supports VMware vSphere and Microsoft Hyper-V environments.
VMBackup is designed to backup and replicate the virtual machines by taking the snapshots of the VM images at the host (hypervisor) level. There is no need to install any agent on each virtual machine (guest OS). Also, during incremental backups, only changed blocks will be transferred. Application-aware image backup processing ensures application consistency with logs being truncated after successful backups. The quick vm recovery helps you to instantly launch the backed up VMs on ESXi host or Hyper-V or any other hypervisor. VMBackup provides option of sending the backup data to an off-site data center or Vembu Cloud for data redundancy and disaster recovery.
Feature Highlights
Agentless VMware Backup and Replication
VM Replication for High Availability
VMware Hot-Add and SAN transport mode for LAN free data transfer
CBT enabled incremental data transfer using VMware VADP
Supports VMware vSphere v6.5 which includes VMware Virtual Volumes and Virtual SAN
Host level Advanced Hyper-V Backup
Support for Hyper-V Cluster Shared Volumes
Vembu CBT Driver for high performance incremental backups
Hot Backup ensures zero VM downtime
VSS aware technology for application consistency
Quick VM Recovery
Application-Aware Image Backups
Automated Backup Verification
Vembu Universal Explorer for Microsoft Exchange, SQL, Active Directory and SharePoint
Instant File-level Recovery
Entire VM recovery to ESXi Host, Hyper-V and KVM
Restore specific disks from a backed up VM
Cross Hypervisor Migration (V2V)
VembuHIVE File System, a File System of File Systems for efficient backup storage
Flexible & Configurable Retention Policies
VMware Backup
Most of the medium and large companies are moving their business critical servers to VMware vSphere environments to get the benefits of minimal downtime, better resource distribution, easier manageability and cost savings. Though VMware has inbuilt snapshot functionality to backup the VMs, it is not a complete backup solution as just snapshots alone cannot guarantee consistent backups with recovery points for months or years. Also, backing up VMware virtual machines by using any third party software or hardware vendors are typically more expensive and difficult to manage.
Vembu VMBackup is the most cost effective Backup and Disaster Recovery software which offers backup and replication for VMware vSphere hosts and vCenter servers at an affordable price point.
Host level VMware backupis designed to protect vSphere and vCenter environments using the VMware vStorage APIs (VADP)
VM Replication ensures the high availability of VMs. It creates a redundant copy of VMs on another ESXi host, in a ready-to-start state
The direct Hot-Addand SAN transport mode provides faster data transfer speed with less resource utilization. VMBackup will automatically analyze your environment and it will choose the appropriate data transfer mode
VMBackup uses the application-specific VSS writers to take consistent snapshots of MS Exchange, MS SQL Server, MS Active Directory and MS SharePoint. Also, it truncates log files after successful backup schedules.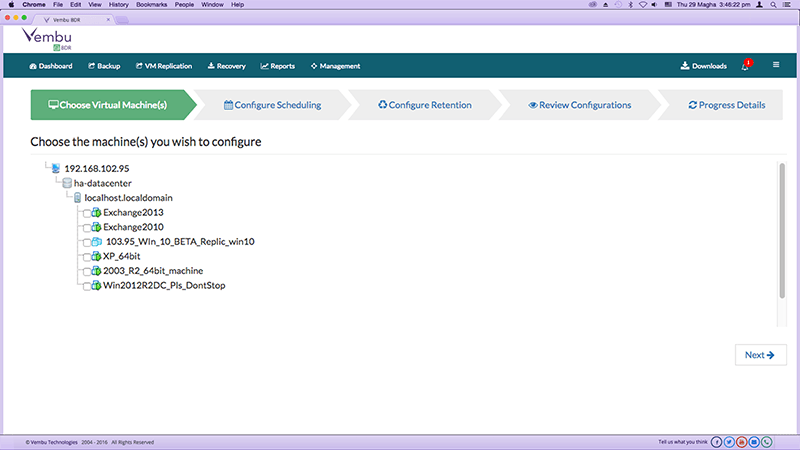 Hyper-V Backup
Many small and medium businesses are using Microsoft Hyper-V servers in their data center as setting up a Hyper-V server and creating virtual machines are really easy and simple task for IT admins. But creating a backup policy for the Hyper-V VMs is not a simple process. Although, Hyper-V itself has a snapshot functionality, it is not an option for backup. Also, the backup softwares available for Hyper-V backup are not performing well due to the lack of comprehensive backup APIs from Microsoft.
Vembu has developed it's own proprietary driver to backup the Hyper-V VMs in an efficient manner especially with up to 5X improvement in performance over other backup softwares.
Host level Hyper-V backupis designed to protect Microsoft Hyper-V Servers
Vembu's proprietary CBT driver tracks the changed blocks alone during the incremental backup and it ensures the high performance incremental backup
Hot Backup ensures zero VM downtime
Hyper-V backups use application-specific VSS writers to take consistent snapshots of highly transactional applications like Exchange Server, SQL Server and truncate the transaction log files during the backup job
VMBackup supports the VMs located in Hyper-V Cluster Shared Volumes and the Windows SMB share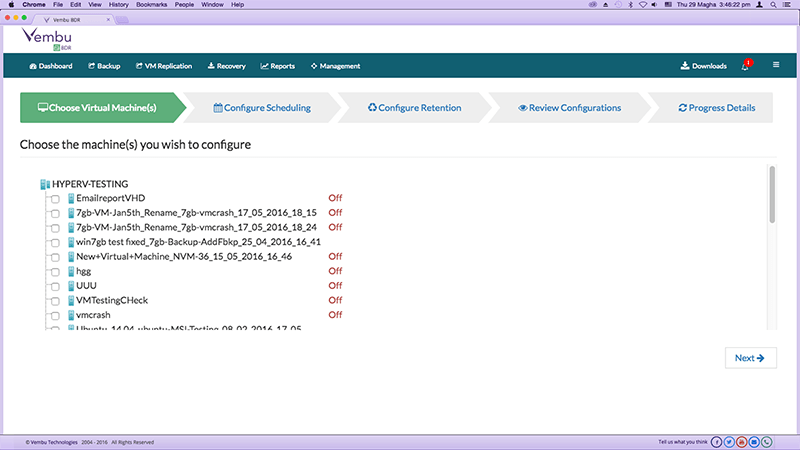 "Be social and share it with social media, if you feel worth sharing it"