Friends now you read more theory about VMware NSX and it's time to learn Installation part of this product. Let's discuss in detail about Step by step procedure how to deploy and configure Various NSX Components.
Now you will think about this question – which Components? Is this not an Appliance (OVA/OVF) file?
Yes it is regular Appliance only but deploying one Appliance is not sufficient as you are looking for more features like Logical Router & Distributed Firewall …. etc
For any product installation we need to know Pre-requisites and below is the list for VMware NSX.
Pre-requisites
A properly configured vCenter Server with at least one cluster.
Ideally two clusters:
One for Management where you deploy NSX related VM's
Second for Production VM's
2.  Cluster should have at least two ESXi hosts. (More would be better.  Memory will be important)
3.You will need to be using Distributed Virtual Switches (DvSwitch) NOT Standard vSwitches
4. If you are NOT running vSphere 5.5 you will need to have your physical switches configured for Multicast. (Unicast requires vSphere 5.5)
5.You will need a vLAN on your physical network that you can utilize for VXLAN
6.For NSX, vSphere Web Client is must. You cannot Manage NSX components from vSphere Client
7.For NSX 6.1 , Prerequisite is to have VMware vCenter Server 5.5 or later
8.Properly Configured DNS and NTP server is required. Ensure all the components ESXi, vCenter and NSX Manager are in sync time with configured NTP servers
9. Ensure that DNS servers have been configured on the NSX Manager and name resolution is working. Otherwise, NSX Manager cannot resolve the IP addresses
10.Ensure you have Configured the your Distributed Switch with MTU more than 1600
Now Let's see high level overview and followed by step by step Installation procedures. (Thanks for VMware for detailed image)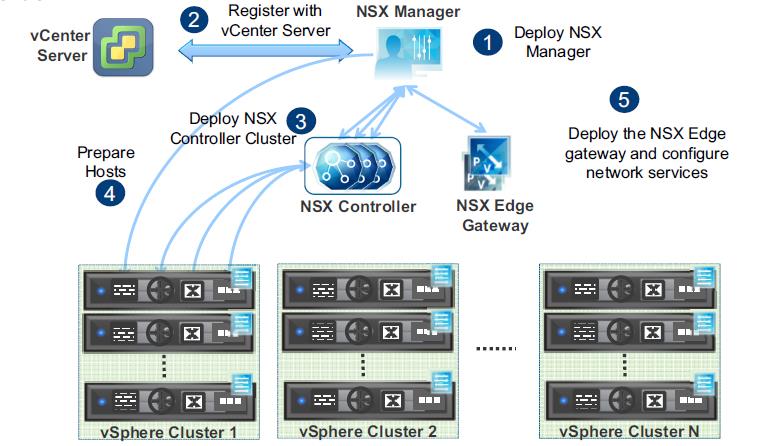 Steps:

Deploy NSX Manager from OVF

Register NSX Manager with the vCenter Server providing IP address and credentials and the NSX Manager instance connects to the vCenter Server system. The NSX Managerinstance enables the NSX components in the VMware vSphere Web Client.

The vSphere Web Client is used to deploy the NSX Controller instances through NSX Manager.

After NSX Controller instances are deployed, hosts are prepared by using NSX Manager to install the VIBs on the ESXi hosts in the cluster.

After the components are installed and deployed, you define the logical networking components, such as adding distributed routers and creating firewall policies
This is for today and in my next post I will provide Deploy NSX manager from OVF installation steps with screenshots.