VMworld 2017 revealed lot of secrets about NexGen networking solution NSX-T which gives ideal Architecture for Cloud Native Apps. With the transformation of Applications architecture with Docker/Container/K8's which requires great enhancements in Compute/Network stacks. Unlike traditional NSX which relies on VMware products like vCenter/ESXi/VTEP, this new product comes with support for multiple hypervisors (What happened to NSX-mhv? most of us didn't realize it's already a retired product). Customers using NSX Multi-Hypervisor are recommended to migrate to NSX-T or NSX for vSphere based on their desired feature set. Let me focus more on what new features are available with NSX-T 2.1
NSX-T's main drivers relate to new data centre and cloud architectures with more hetrogeneality driving a different set of requirements to that of vSphere that focuses around multi-domain environments leading to a multi-hypervisor NSX platform. NSX-T is highly extensible and will address more endpoint heterogeneity in future releases including containers, public clouds and other hypervisors. As you can see before the existing use cases for NSX-T are mainly focused around devops, micro-segmentation and multi-tenant infrastructure.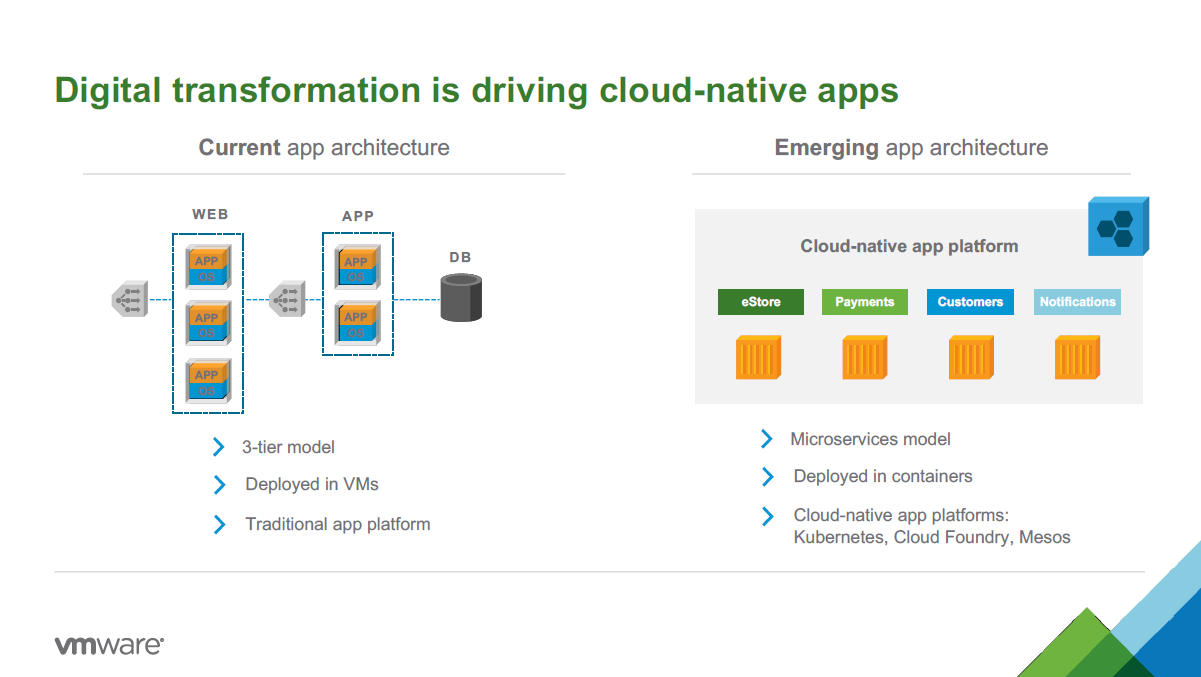 NSX Solution Overview for Cloud-Native Apps
One Network overy for containers and VMs
Developer workflow remains unchanged
IT gain a visibility and control of all microservices-based traditional apps
Enables micro-segmentation for VMs and Containers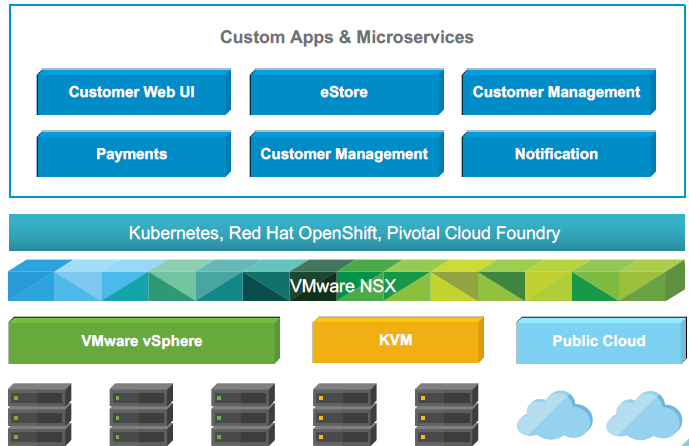 Key enhancements with NSX-T 2.1

NSX-T Native Load Balancer & PCF and NSX-T Topology Monitoring for cloud native apps

Loginsight integration for containers

Monitoring Microsegmentation with LogInsight

CF / NSX Components Network Container Plugin (NCP)

NCP is a software component provided by VMware in form of a BOSH add-on release.
Conclusion:
VMware recognize that in this new world, endpoints are heterogeneous and infrastructure consumption models are changing. To that end, VMware specifically designed and optimized NSX-T to enable organizations across all industries to boost on their ongoing digital transformation journeys. NSX-T 2.1 is the next step in this drive for VMware, NSX-T 2.1 will be generally available in Q4 of VMware's FY'18.
"Be social and share it with social media, if you feel worth sharing it"